WHERE TO GO TO PHU QUOC – PHU QUOC TRAVEL GUIDE FROM A
WHERE TO GO TO PHU QUOC – PHU QUOC TRAVEL GUIDE FROM A
Phu Quoc is the largest island in Vietnam and also the first island city to be recognized on this S-shaped strip of land. Speaking of Phu Quoc, people will immediately think of beautiful names such as: pearl island, island paradise, resort paradise, etc. All show the strange attraction of this place. Phu Quoc has countless famous destinations for us to explore. However, for those who first set foot on the pearl island will inevitably be surprised because they do not know where to go to Phu Quoc . Therefore, the list of famous Phu Quoc tourist attractions introduced below will certainly be useful information for you when traveling to Phu Quoc.
Where to go to Phu Quoc? These are famous places you should not miss
1 – Sao Beach
Phu Quoc is an extremely lucky island when it has been endowed by nature with beautiful beaches like paradise. One of the most famous beaches that anyone who comes to the pearl island must discover is Bai Sao. This beautiful beach is located about 25 km from the center of Duong Dong town and you can move here easily by many different means of transport. 
The reason why this place is called Sao Beach is because every night when night falls, thousands of starfish begin to move onto the sand. Coming to Bai Sao, you will be immersed in the clear blue sea, with the smooth white sand and enjoy the fresh and cool atmosphere. 
2 – Long Beach
One of the other famous Phu Quoc tourist destinations you should not miss is Bai Dai, located in the northern area of ​​the pearl island. As the name suggests, Bai Dai has a length of more than 20 km, soft curves with clear blue sea water, straight coconut trees creating a surprisingly beautiful picture of nature. 
=> Detailed reference: Full experience of traveling to Phu Quoc  from A – Z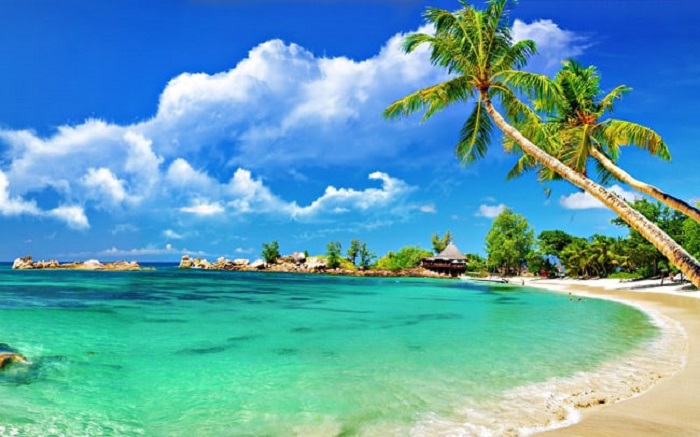 Bai Dai is the convergence of many exciting and interesting sea activities and entertainment such as kayaking, scuba diving, coral viewing, etc.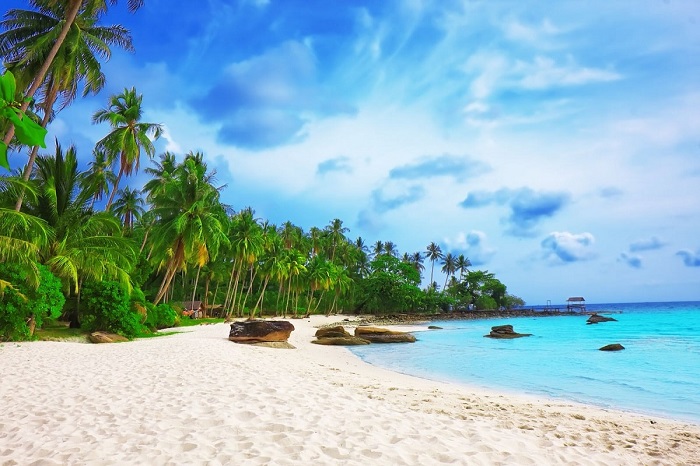 3 – Khem Beach
Bai Khem is also considered a great suggestion for those who are wondering where to go to Phu Quoc . Bai Khem is located about 25 km from the center of Duong Dong town, attracting all visitors when arriving by its unspoiled, peaceful beauty. Although not as long as Dai beach, or as beautiful as Sao beach, Kem beach makes traveling devotees fall in love with the unique natural rock formations.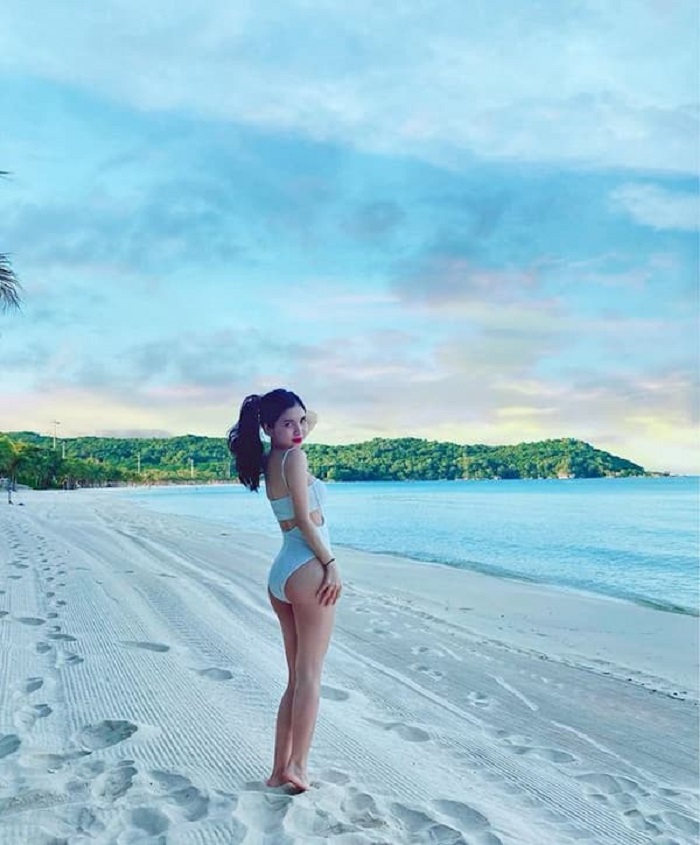 Bai Khem is the ideal destination for you to get away from the hustle and bustle of the city, immerse yourself in the peaceful natural space and enjoy delicious seafood dishes. Besides, traveling to Khem beach, you also have the opportunity to visit Tien Well, a long-standing historical relic of Phu Quoc, Kien Giang .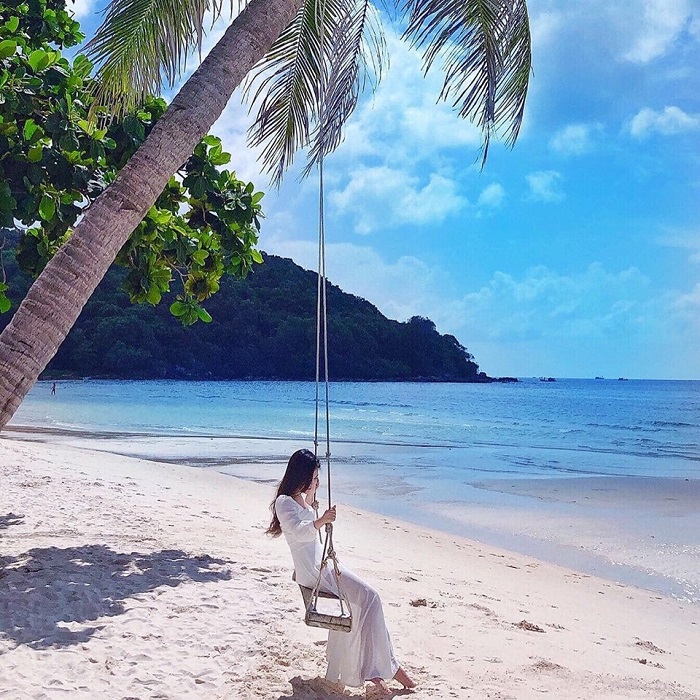 4 – Vinpearl Phu Quoc
If you are looking for fun places in Phu Quoc , don't miss Vinpearl Phu Quoc. This is an extremely large entertainment and resort complex located at Bai Dai, Ganh Dau, Phu Quoc. 
=> Hint: The most famous games in vinpearl phu quoc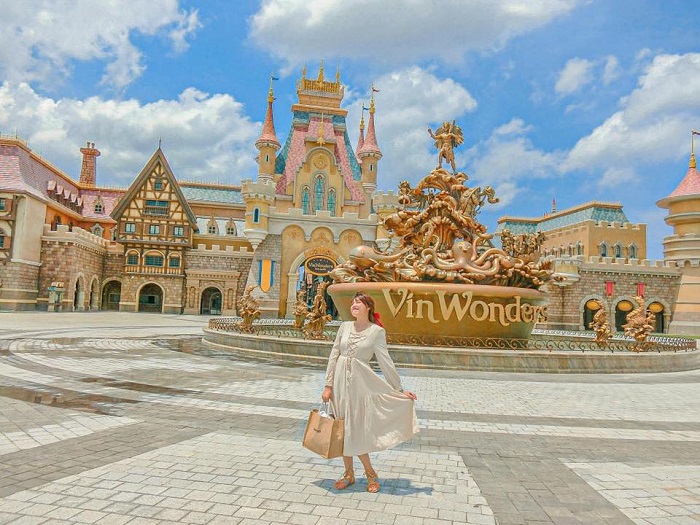 Vinpearl Phu Quoc has an area of ​​up to thousands of hectares, of which the most prominent is Phu Quoc United Center, which is more than 1000 hectares wide and is currently a tourist and resort area holding many world records. The appearance of Phu Quoc United Center is also considered an important factor contributing to turning the pearl island into an international tourist destination.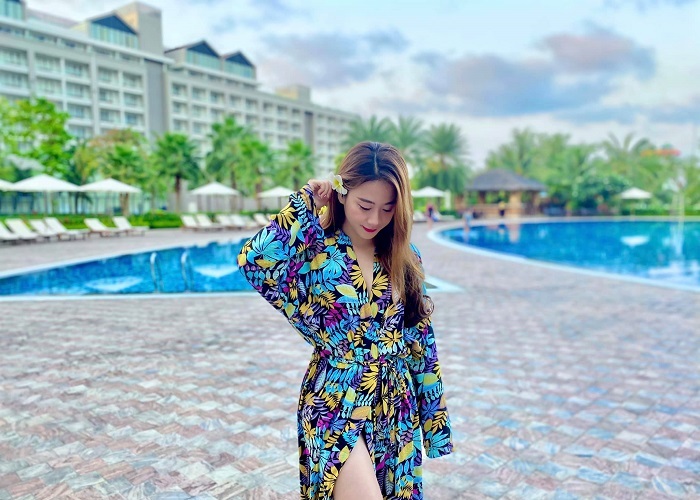 In addition, Vinpearl Phu Quoc also owns many other areas such as: a system of 7 hotels, high-class resorts, the large Vinpearl Safari zoo, the world-class entertainment paradise Vinpearl Land, … Come to the place Here, you are sure to have a great experience.
5 – Nail Island
Not only having large entertainment areas, Phu Quoc attracts visitors by many pristine, peaceful and beautiful islands like paradise. One of the Phu Quoc tourist attractions you should not miss is Mong Tay island. This is a beautiful small island located in Duong Hoa commune, in the southern area of ​​Phu Quoc island, between Ba Lua island and Hai Tac island.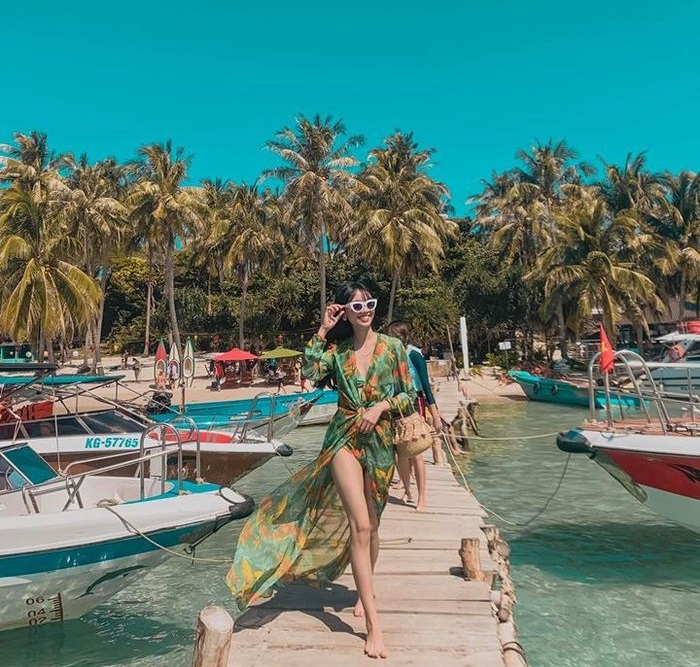 Mong Tay island attracts tourists by its clear blue water beaches and long stretch of fine white sand. This is an ideal destination to relieve stress, dispel the worries and fatigue of life. In addition, coming to Nail Island, you will also have the opportunity to experience interesting activities such as fishing, squid fishing, diving to see corals, …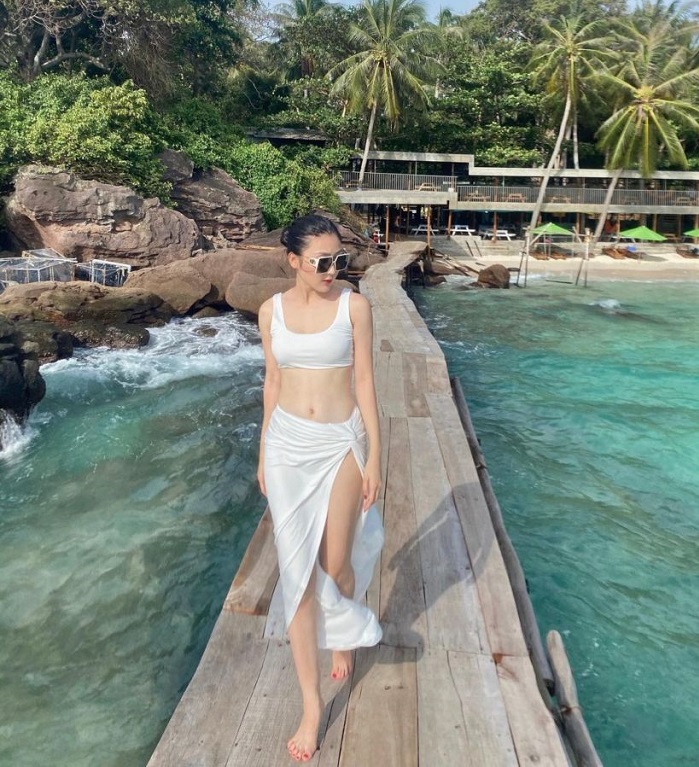 6 – Ham Ninh fishing village
Where should you go to Phu Quoc to be able to immerse yourself in the rustic and simple life of the indigenous people? The answer for you is Ham Ninh fishing village . This is a peaceful fishing village located about 14 km east of Duong Dong town center. You can easily get here by motorbike or taxi.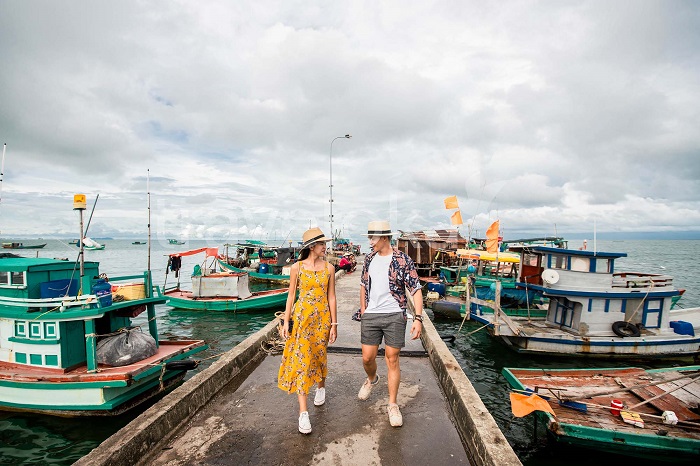 Coming to Ham Ninh fishing village, you will be impressed by the peaceful and rustic beauty of the fishing village. This place is also voted as one of the most beautiful places to welcome the sunrise and watch the sunset in Phu Quoc. The fishing village has a wooden bridge across the sea. You can take a walk on the bridge, admire the poetic sunset and take beautiful pictures of your check-in.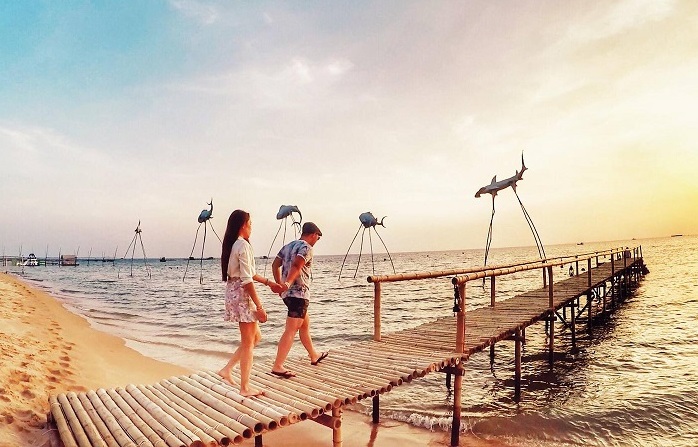 Ham Ninh fishing village is also known as "crab paradise". Here, you can comfortably enjoy delicious dishes from crabs, at a reasonable price. Do not miss the opportunity to visit the pearl farming area in the fishing village. 
7 – Suoi Tranh Phu Quoc tourist area
If you are still wondering where to go to Phu Quoc, then come to Suoi Tranh tourist area. From the center of Duong Dong town, you just need to go south about 10km to arrive at this beautiful tourist area.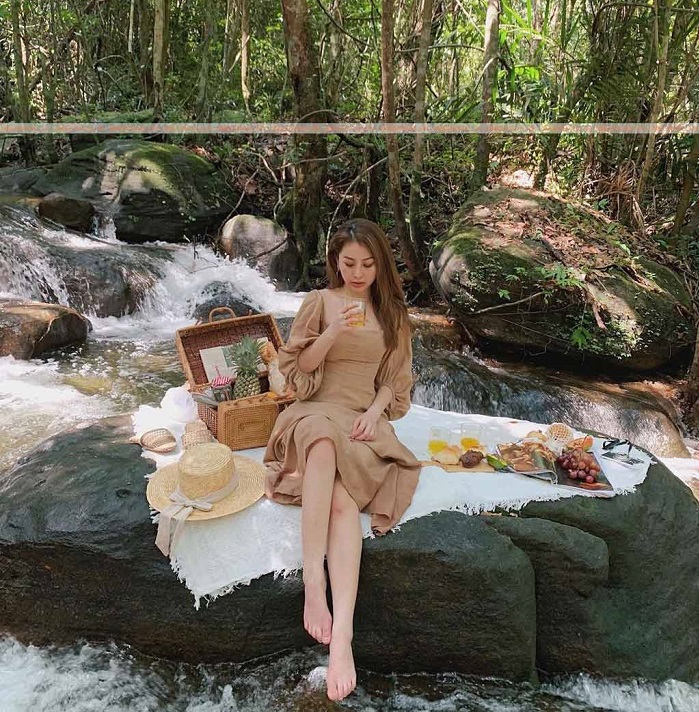 Suoi Tranh Phu Quoc is likened to a priceless gift that nature has bestowed on the pearl island. Coming to this place, you will really be overwhelmed by the majestic and poetic natural picture of this stream. Suoi Tranh is covered by dense primeval forest, so the atmosphere is extremely cool and pleasant. Coming here, you will experience waterfall bathing, visit the mysterious Bat Cave, experience fishing on the banks of a stream full of fun or check-in in virtual life.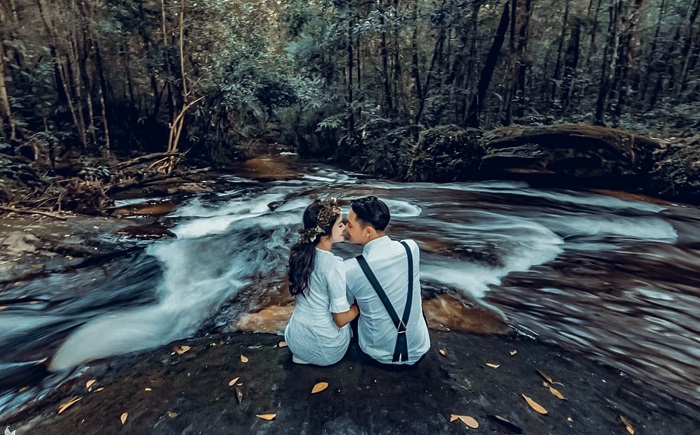 Suoi Tranh tourist area is open from 7 a.m. to 5 p.m. daily with a ticket price of only about 10,000 VND / 1 ticket.
8 – Palace of Uncle Phu Quoc
Traveling to Phu Quoc without discovering Dinh Cau is extremely regrettable. This is a famous spiritual destination located in Quarter 2, Duong Dong town, about 200 meters west of the town center.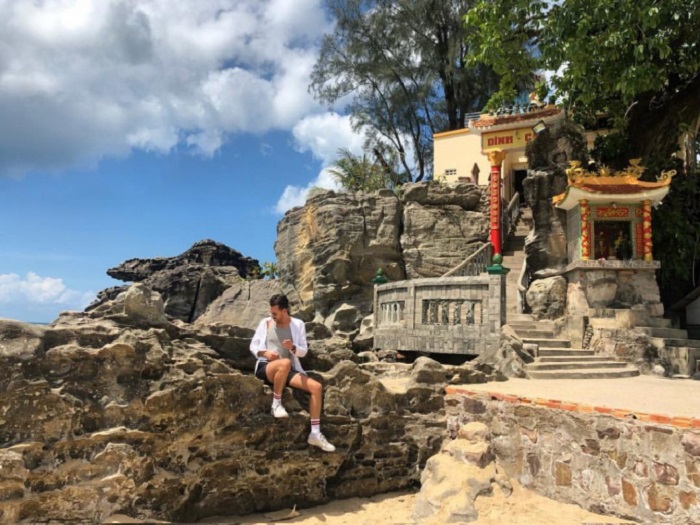 Dinh Cau is a small temple located on a craggy cliff reaching out to the middle of the sea. This place was built around the 17th century and was remodeled in 1997. Although the area is not large, Dinh Cau makes visitors impressed by its unique architecture and extremely elaborate decorations and carvings. Not only that, Dinh Cau is also a place to watch the beautiful sunset. Sitting at Dinh Cau, listening to the murmuring waves of the sea, admiring the poetic and romantic sunset will definitely be an extremely interesting experience.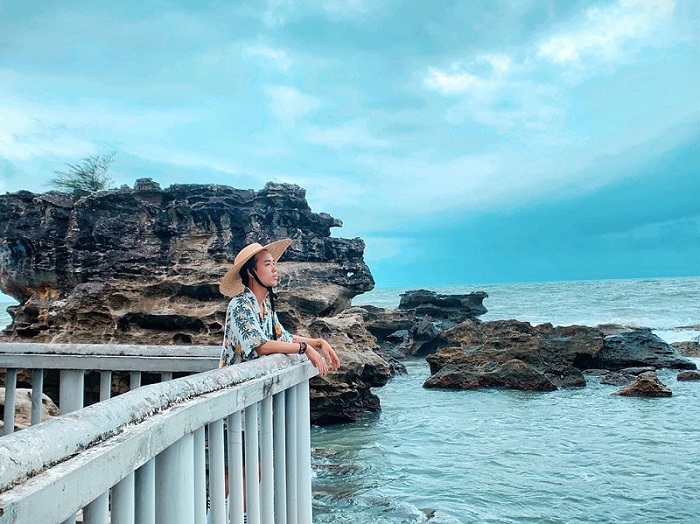 9 – Phu Quoc pepper garden
One of the fun places in Phu Quoc that is also loved by many tourists is the pepper garden. The pearl island owns vast green pepper gardens that make anyone surprised when they arrive. Pepper, which is likened to black gold, not only brings economic values ​​​​but also becomes an interesting tourist destination.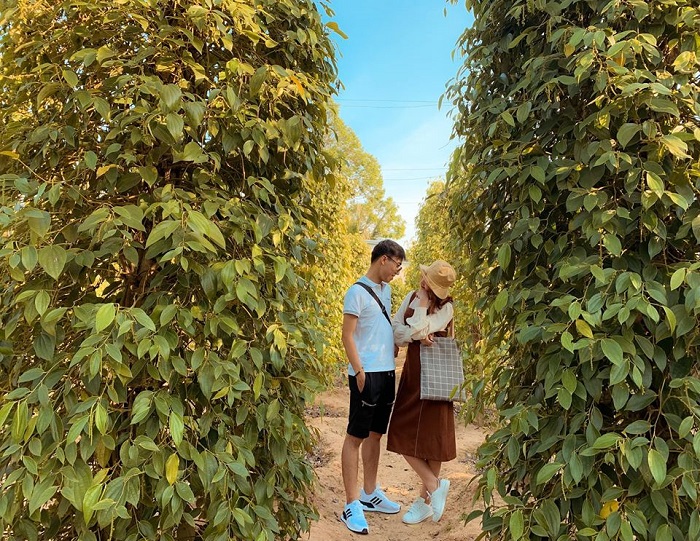 Phu Quoc has many different pepper gardens. Some famous names you can explore such as: Duc Minh pepper garden, Duc Thanh, Khu Tuong pepper garden, etc. Coming to this place, you will be lost in the rows of straight pepper, harvested by yourself. You can also buy this famous specialty as a gift.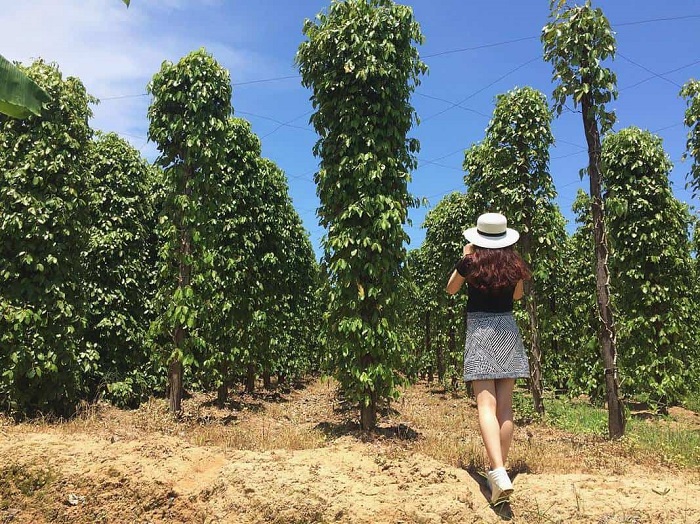 10 – Duong Dong Market
Where to go to Phu Quoc to be able to buy famous specialties of this place as a gift is always something that many tourists are interested in. If you are also among them, do not miss Duong Dong market. This place is known as the largest market in Phu Quoc, located right in the center of town. 
=> Refer now: Top specialties in Phu Quoc you must try when you come here!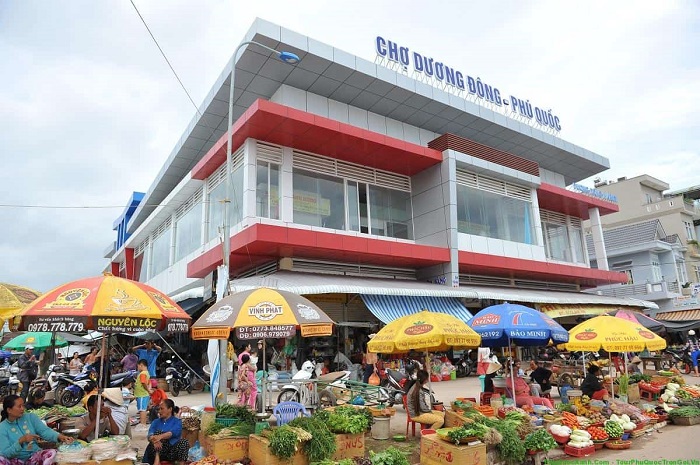 Duong Dong Market was built many years ago. Stepping into the market, you will inevitably be surprised by the vastness of this market. There are thousands of stalls, large and small, selling everything from clothes, fabrics to famous specialties of the pearl island. You can freely choose specialties to buy as gifts. Do not miss the opportunity to enjoy delicious dishes at the market's food court. 
PHU QUOC TOUR SUGGESTIONS
Above is a list of the most famous destinations on the pearl island that can help you answer the question of where to go to Phu Quoc . Hopefully that will be useful information for you to add to your Phu Quoc travel guide and get the best preparation for your upcoming journey. Do not forget to follow the latest Phu Quoc tourism news at Vietnam Tourism website .