TOP 12+ FAMOUS SPECIALTY DISHES IN PHU QUOC 2022 EAT LA ME
TOP 12+ FAMOUS SPECIALTY DISHES IN PHU QUOC 2022 EAT LA ME
Enjoying delicious food is always an interesting experience you cannot miss no matter where you travel. And with a paradise destination like Phu Quoc, this experience becomes even more wonderful. There are many specialties in Phu Quoc and it is very difficult to enjoy them all in just a short trip. The suggested names below are the dishes you should not miss on your upcoming visit to the pearl island. 
The specialties in Phu Quoc are delicious, 'beating' every diners' taste
1 – Herring salad
If you are wondering what Phu Quoc's specialty is , the extract is the first dish you should enjoy. Herring salad is also considered a famous specialty, a "food monument" of Phu Quoc Kien Giang , making any visitor who has enjoyed it to be attached to it forever. 
Herring is a small fish, delicious meat and contains a lot of good nutrients for the body, especially does not have a fishy smell like many other fish. To make Phu Quoc's prepared herring salad requires a rather elaborate processing, from the selection of ingredients to seasoning. The harmonious combination of sweet and fragrant fish meat, and many different ingredients have created a special dish in Phu Quoc that is extremely special, making all diners fall in love.
The address to enjoy delicious herring salad in Phu Quoc
Hello Phu Quoc Restaurant, 66 Tran Hung Dao Street, Duong Dong Town, Phu Quoc, Kien Giang Province.
Reference price: 135,000vnd/ 1 serving
2 – Nhum Phu Quoc
One of the next Phu Quoc culinary specialties you should enjoy is sea urchin. There are many dishes made from sea urchin, but grilled urchin is probably still the most popular dish among tourists.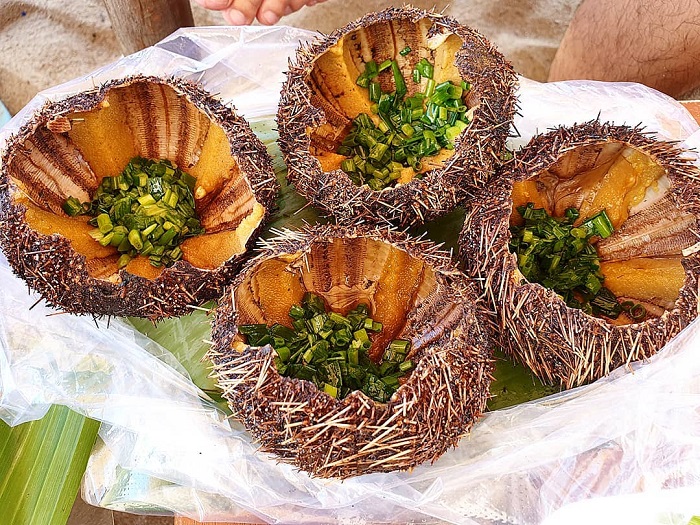 Although sea urchin looks thorny and ugly on the outside, after going through sophisticated processing stages, they become an extremely delicious and attractive dish. Mushroom meat has a sweet taste, combined with the fatty taste of onion fat, the aroma of roasted peanuts is so wonderful. According to the experience of the people here, sea urchin is best around March to June of the lunar calendar every year. If you want to enjoy this famous specialty in Phu Quoc , you should visit the pearl island at the right time.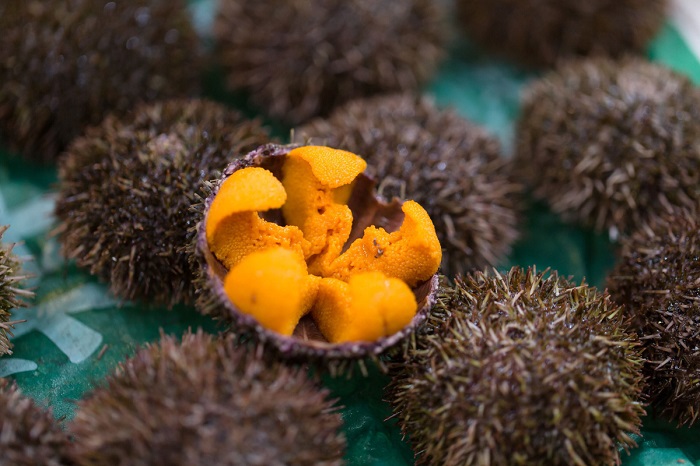 The address to eat delicious sea urchin in Phu Quoc
Vietnamese shop: 261 Nguyen Trung Truc, Duong Dong Town, Phu Quoc
Reference price: 20,000vnd – 25,000vnd/ 1 piece
3 – Phu Quoc cake soup
Banh Canh is a popular dish in the southern provinces. In each region, Banh Canh has its own unique flavor and so does Phu Quoc Banh Canh. This dish is not only delicious but also contains simple and rustic features like the nature of the people on the island.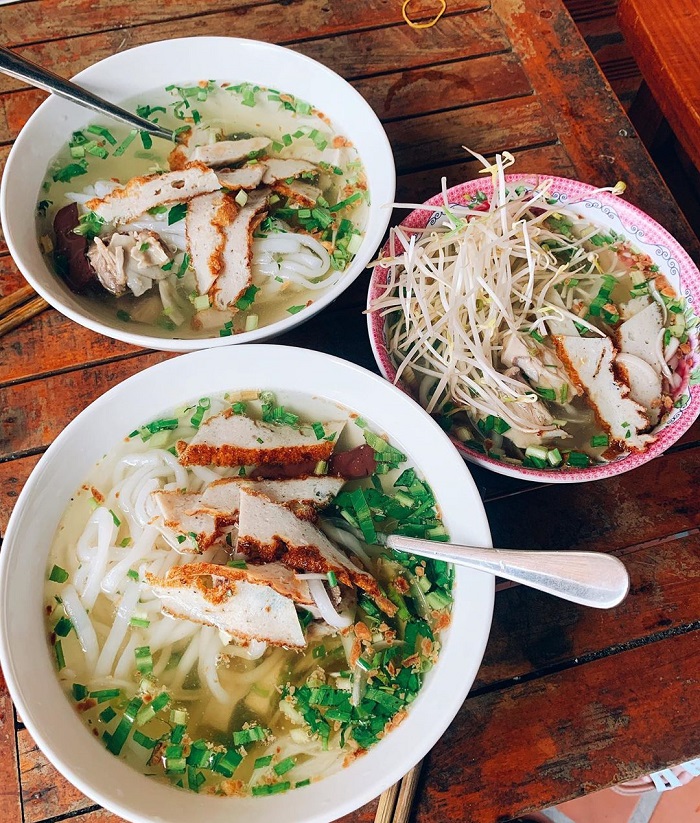 Phu Quoc cake soup also has many different types such as pork soup cake, crab cake soup or mackerel cake soup. You can enjoy this dish at any place, whether it is simple eateries on the sidewalk or inside luxury restaurants.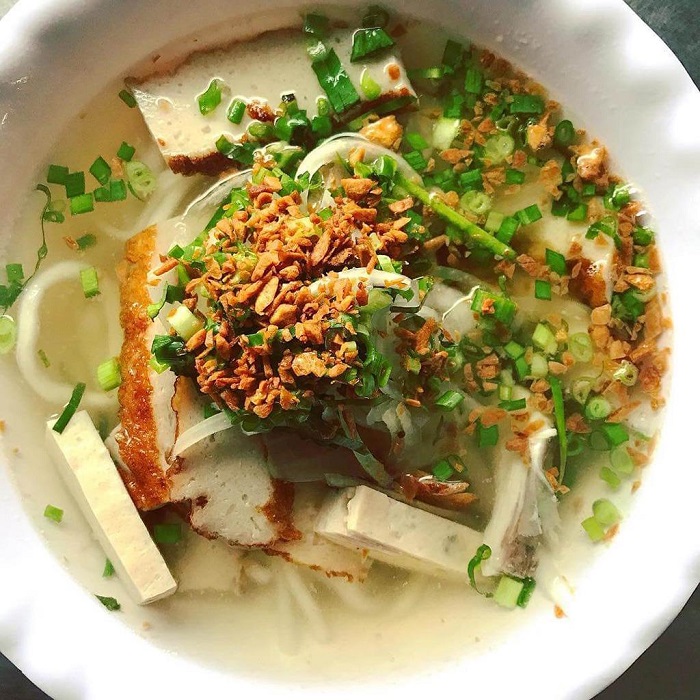 Famous Phu Quoc cake shop
Banh Canh Phung, Nguyen Trung Truc Street, Phu Quoc City
Reference price: 30,000vnd – 40,000vnd / 1 bowl
4 – Ham Ninh Crab
Going on a tour of Phu Quoc without enjoying Ham Ninh crabs is a pity. This has long been a famous specialty of the pearl island that any visitor when coming to this place also wants to taste.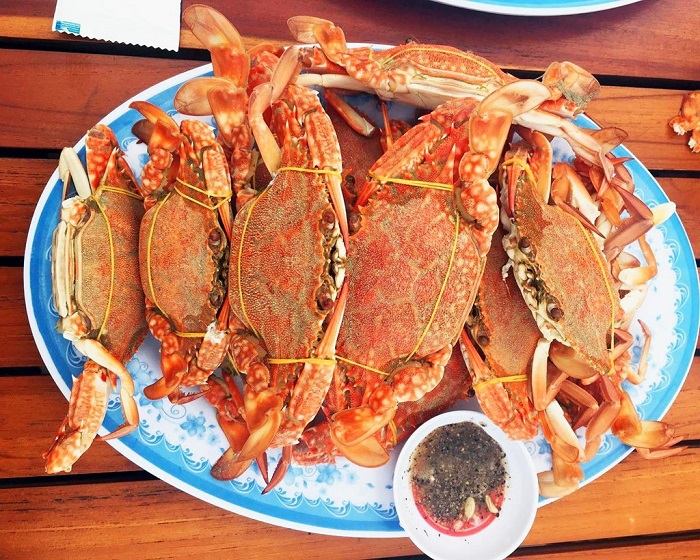 Ham Ninh crab is famous for its large size, firm meat, sweet flavor and attractive aroma. Crab processing is not too picky. Just choose the freshest ones, steam them with lemongrass ginger and in just a few dozen minutes you will have a delicious hearty meal.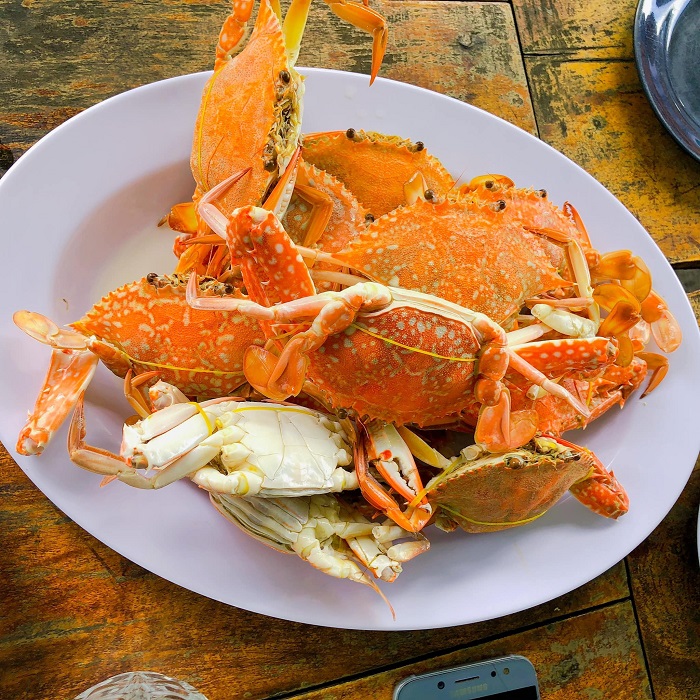 Some famous places to enjoy Ham Ninh crabs
Ham Ninh Crab Restaurant – Salt and Pepper: 112 Bach Dang, Duong Dong Town, Phu Quoc.
Ngoc Han raft house – Ham Ninh fishing village.
Reference price: 180,000vnd – 350,000vnd / 1 person
5 – Phu Quoc Melaleuca Mushroom
Melaleuca mushroom is also considered as one of the most famous specialties in Phu Quoc that you should not miss. This is a fairly rare food and only grows at certain times of the year. Visually, Melaleuca mushrooms are quite similar to termites of the South, but the taste is completely different.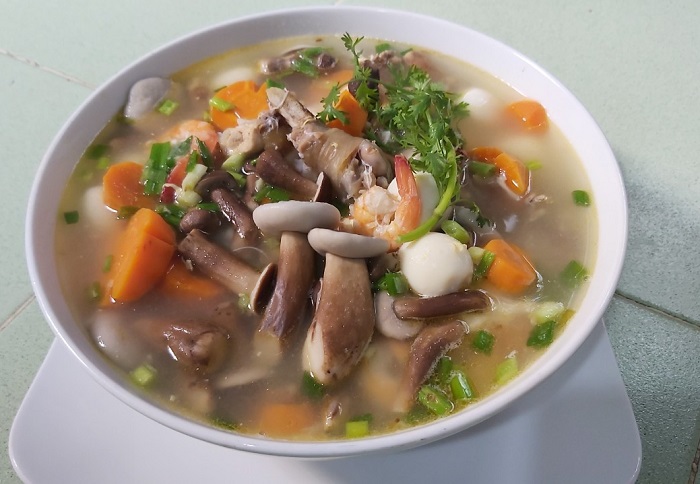 Melaleuca mushroom attracts diners by its very special taste. When you first enjoy it, you will feel a slight bitter taste on the tip of your tongue. However, the more you eat it, the sweeter and richer it becomes. Besides, melaleuca mushrooms also contain many nutrients that are good for health. 
The place to enjoy delicious melaleuca mushrooms
Hello Phu Quoc Restaurant, 66 Tran Hung Dao Street, Duong Dong, Phu Quoc.
Reference price: 175,000vnd / serving
=> Click to see now: Top 10 famous tourist destinations in Phu Quoc you must definitely explore
6 – Phu Quoc noodle soup
It would be a big mistake to review Phu Quoc food without mentioning the noodle dish. This dish is actually derived from Binh Dinh noodle soup. However, with creativity, the people of Phu Quoc have given this dish a completely different flavor, making anyone who has eaten it must fall in love.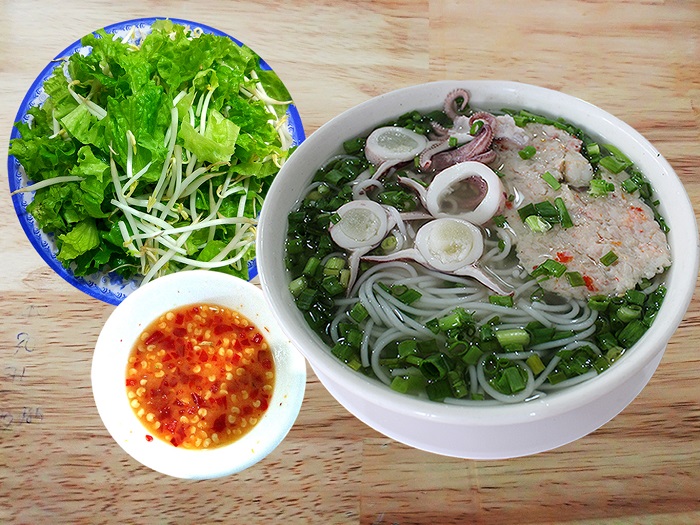 A bowl of vermicelli looks quite simple. In addition to the soft white noodles, there are fish cakes, green onions and sweet broth.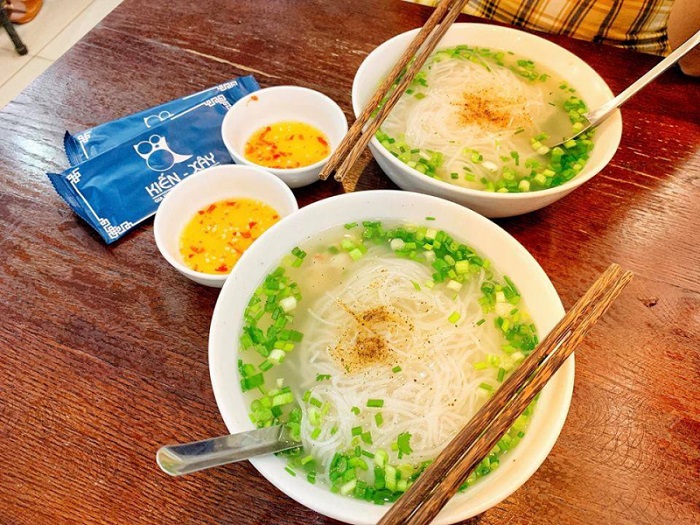 The address of the noodle shop
Kien Xay vermicelli, 34, April 30, Duong Dong town, Phu Quoc
Kien Xay Bach Dang noodle soup, 28 Bach Dang street, Duong Dong town, Phu Quoc.
Reference price: 30,000vnd – 50,000vnd/ 1 bowl
7 – Phu Quoc king crab
If traveling to Phu Quoc around December of the lunar calendar, king crab is a specialty in Phu Quoc that you should enjoy and buy as a gift. At this time, the crab is more meaty and delicious. This dish also has good health effects such as pain relief, blood production, bone health and high nutritional content. However, the price of king crab is not cheap, you should ask before buying.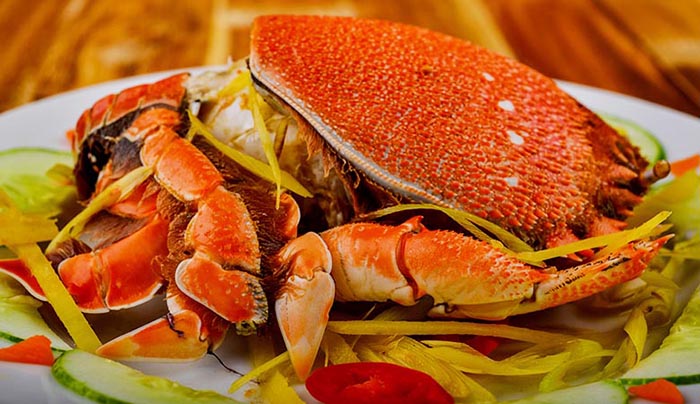 Address to enjoy: Ham Ninh fishing village & An Thoi market.
Reference price: 1,000,000 VND/head.
8 – Phu Quoc fish sauce
Everyone knows that fish sauce is a famous gift in Phu Quoc. The fish sauce here has a delicious taste, beautiful color and rich in protein. If you want to buy fish sauce, you should note that you should choose the type in a glass bottle, be careful during the packing process so that the moving process goes smoothly.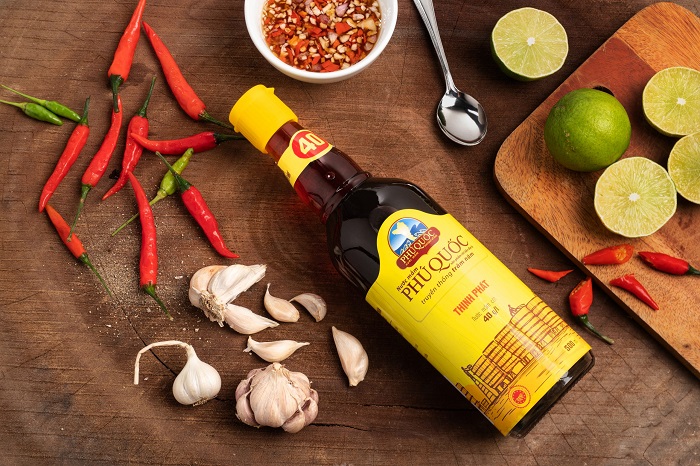 Address to buy fish sauce: Thinh Phat fish sauce, Khai Hoan or Phung Hung fish sauce…
9 – Phu Quoc pepper
In addition to fish sauce, Phu Quoc pepper is very popular, you can easily buy this product as a gift for family and friends. The reason why Phu Quoc pepper is so popular is because it has thin seeds, a dense intestine and a pungent taste that is more aromatic than pepper elsewhere.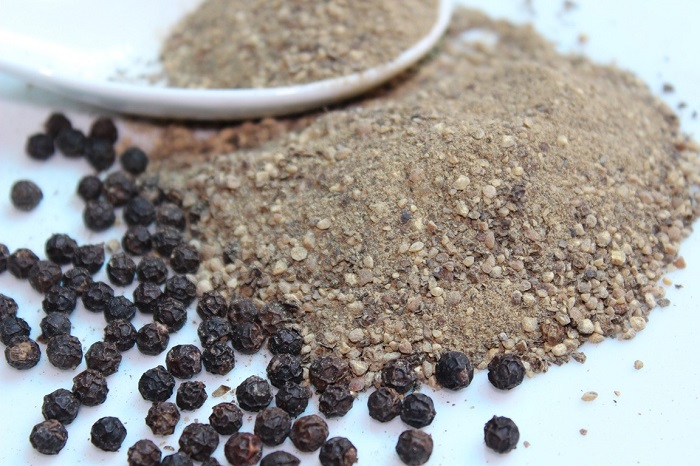 Address to buy prestigious Phu Quoc pepper: Khu Tuong pepper garden, Ngoc Ha pepper garden, Dinh Cau market.
Reference price: 200,000VND – 250,000VND/kg.
10 – Jaggery beef cake
Jaggery beef cake is a favorite snack of Phu Quoc next to toast or grilled corn. Cakes are sold at all markets of Phu Quoc, so it is easy to buy and enjoy together, the cake is supple and has a sweet taste. Although simple, this is also a specialty of Phu Quoc cuisine that is loved by many people.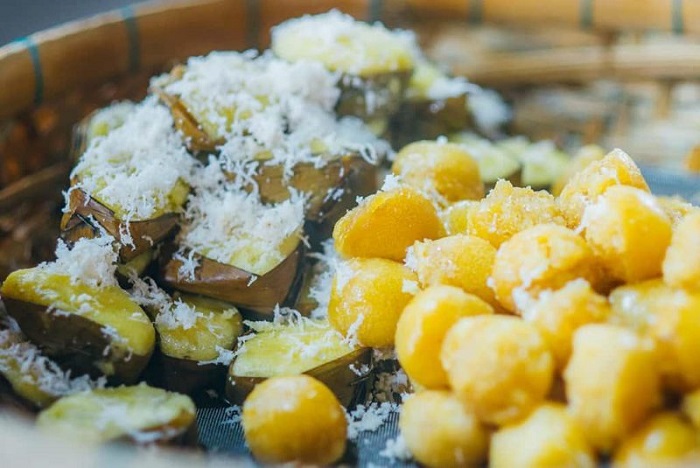 Address to buy cake: Duong Dong market, Dinh Cau market
Reference price: 5,000VND/cake.
11 – Dried sea cucumber
This specialty in Phu Quoc should be bought as a gift because of its high nutritional value, delicious and rare. However, with a slightly high price, visitors should ask in advance to consider buying as gifts.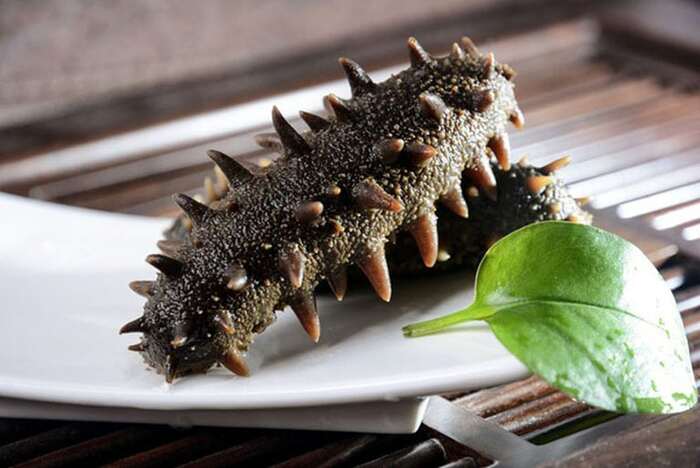 Shopping address: Duong Dong Market, Dinh Cau night market
Reference price: 2,500,000 VND – 3,000,000 VND/kg.
12 – Sim wine
Sim wine in Phu Quoc is famous for its delicious taste. Wine made from ripe myrtle has a sweet, acrid taste, aged for a month to bring a premium taste. Alcohol has good health benefits such as blood circulation, helps sleep better, tonic blood, and is good for the digestive system, so it will be a precious gift for the elderly.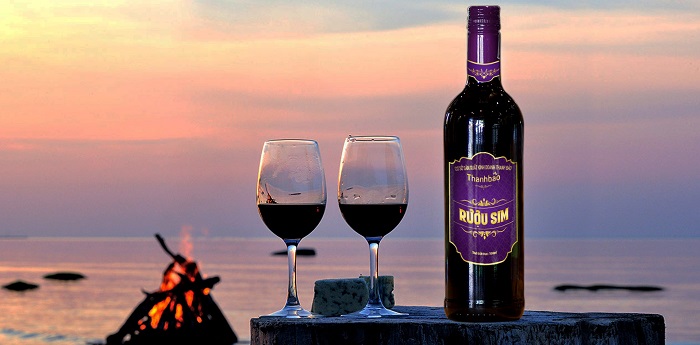 Address to buy Phu Quoc sim wine: Thanh Long sim wine, Bay Gao sim wine, Vuon Apple restaurant.
Reference price: 140,000VND – 200,000VND/bottle/600ml.
RECOMMENDED THE HOTTEST PHU QUOC TRAVEL TOUR 2022
Popular and reliable place to buy Phu Quoc specialties
Duong Dong Market
Duong Dong Market is a very popular shopping address in Phu Quoc because of its variety of items and reasonable prices. The items that many people buy here are fresh and dried seafood as well as souvenirs. You note that the selling price here can still be paid lower, you can balance it to suit your budget.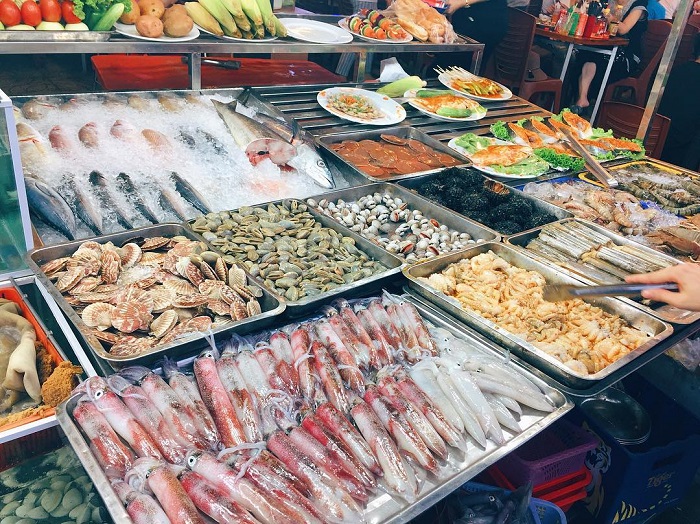 Ganh Dau Market
Ganh Dau Market is located in Suoi Cai village, Ganh Dau commune, so it is a bit far from the central location. But this is still an ideal specialty shopping spot in Phu Quoc . The market sells many fresh seafood items at cheap prices, the atmosphere is also quite pleasant not too noisy. If tourists want to visit the market, it is also a good address.
=> Detailed reference: detailed Phu Quoc travel experience from AZ
Ham Ninh Market
The market is located next to Ham Ninh fishing village, so the seafood here is extremely fresh, especially the crabs. Many tourists choose to come here to buy seafood as gifts, but before shipping, it is necessary to carefully pack fresh items.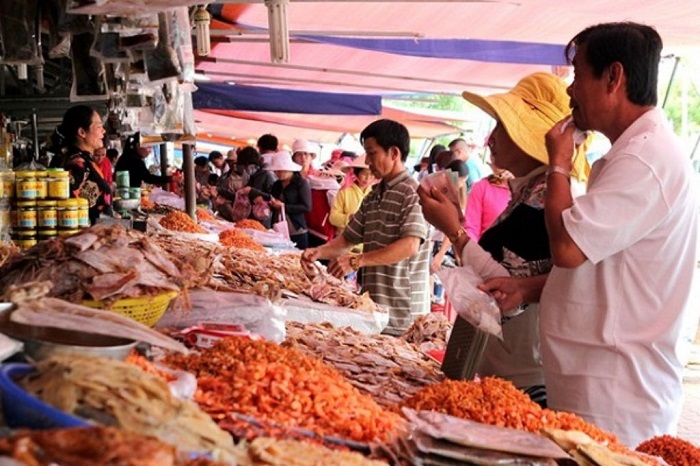 Phu Quoc truly deserves the title of paradise island. Everything here, from the natural scenery to the cuisine, has a strange attraction, making every visitor who comes here is reluctant to return. Hopefully with the list of specialties in Phu Quoc introduced by Vietnam Tourism above, you will have memorable meals in your upcoming journey to discover the pearl island. Do not forget to follow the latest Phu Quoc Kien Giang tourism news at website gtop.vn