The most detailed 3 days 2 nights Nha Trang travel experience in 2022
The most detailed 3 days 2 nights Nha Trang travel experience in 2022
Speaking of beach tourism in Vietnam, it is impossible not to mention Nha Trang. It owns one of the most beautiful beaches in the world. In this article, Vietnam Travel we will share with you an interesting 3 days 2 nights Nha Trang travel itinerary .
Nha Trang is home to one of the most beautiful beaches in Vietnam. Nha Trang's climate is always mild and stable, so the number of tourists traveling to Nha Trang is always crowded all year round. This article will suggest you the most complete 3 days 2 nights Nha Trang travel itinerary , helping you have a fun, safe and complete trip.
Nha Trang is an attractive tourist destination in Vietnam
Suggested Nha Trang travel itinerary 3 days 2 nights
Day 1: Depart from Ho Chi Minh City – Nha Trang – Po Nagar Tower – Hon Chong
From Saigon, I choose to travel to Nha Trang by bus. At exactly 22:00, the bus departs and at 6:45 a.m., it arrives at the southern bus station of Nha Trang. From Nha Trang bus station, I took a motorbike taxi to Sun City hotel. This is a hotel in Nha Trang with a beautiful location and scenery, located near popular tourist attractions in Nha Trang.
On the first day of my 3 days 2 nights trip to Nha Trang, I chose to visit Ba Bo Nagar tower. This is a famous tourist destination in Nha Trang located on 2/4 street, Vinh Phuoc ward, Nha Trang city. Ticket price to visit is 22,000 VND / person / time. The tower is built on a small hill and is named after Queen Bo Nagar – a goddess created by clouds and sea foam, helping all creatures on earth to thrive.
The second point I visited on the first day of Nha Trang tour was Hon Chong. After visiting Ba Bo Nagar tower, you can turn along the North 2/4 road to Nguyen Dinh Chieu street, then turn into a road and you will reach Hon Chong. Ticket price to visit Hon Chong is 22,000 VND / person / time.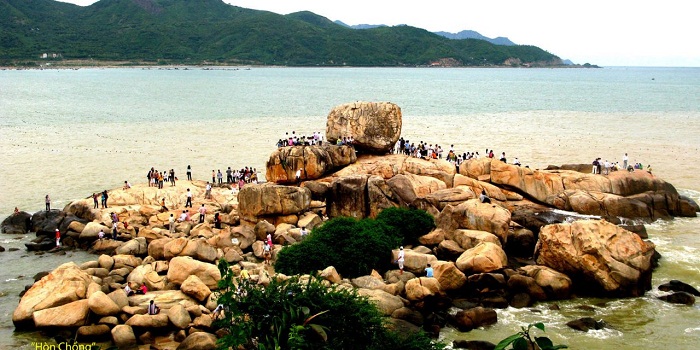 Hon Chong consists of 3 areas: The first area is the Assembly Hall with ancient booths displaying souvenirs and gems. The second area is a cafe with a very nice view overlooking the sea. The last area is Hon Chong with very unique stacked rocks.
=> For more information : Nha Trang specialties must try when traveling to Nha Trang
Day 2: Visit Vinpearl Land Nha Trang
Vinpearl Land is the destination on the 2nd day of the 3 days 2 nights Nha Trang tour that I would like to introduce to you. You can have breakfast at the hotel, then buy tickets to Vinpearl Land right at the hotel's reception. Ticket price to visit Vinpearl Land is 650,000 VND / ticket / person. You can buy tickets or book tickets in advance through reputable travel agencies and companies such as Traveloka Xperience , Group tour, etc.
To Vinpearl Land, you can take a cable car to enjoy the scenery. The cable car route at Vinpearl Land currently holds the record as the longest cable car route in the world with a length of 3.32km and an altitude of 45m above sea level. This cable car route is connected by 2 piers located at both ends of Nha Trang and Hon Tre.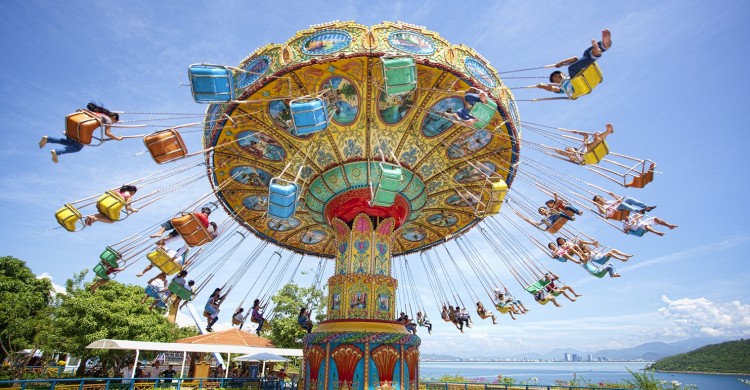 In addition, at Vinpearl Land, there are many thrilling games that are extremely attractive such as roller coasters, pirate ships, airplanes, DropSky, …
After you have tried all the games, you can continue to the Ocean area. It has a 4D cinema and an aquarium. Visitors to the aquarium will feel like they are lost in the middle of the sea, immersing themselves in the world of marine species.
After visiting the aquarium, you will continue to follow the bridge outside to come to the super speed music rotation. You can try playing this game and enjoy the unique art performances.
After a morning full of fun, in the afternoon you can go to Water Park. This place is divided into 3 main areas: children's bathing area, adult bathing area and beach area with a beautiful beach. Coming here, visitors not only can swim but also have the opportunity to participate in extremely attractive sea games such as sailing, water motor, parachute, kayaking, …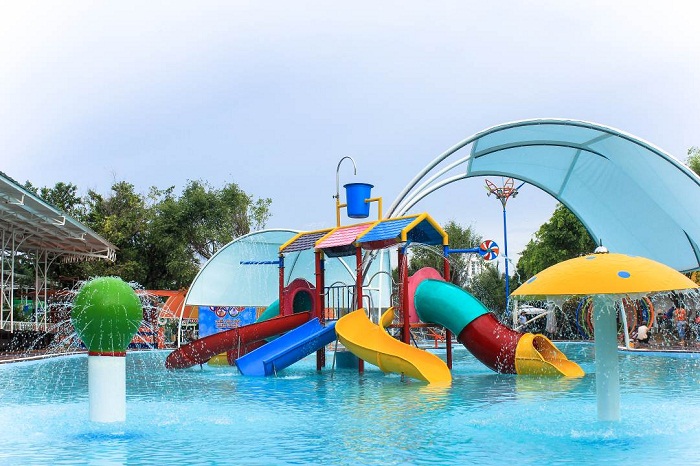 In the evening, you can go to see water music. 19:30 water music program will be started. On weekends or holidays, the number of tourists is very crowded, so you should arrive about 1 hour early to get a good location.
=> Suggest you the hottest Nha Trang travel tours in 2022
Suggest you the hottest Nha Trang travel tours in 2022
Day 3: Walking on Nha Trang beach – I – Resort
On the third day of the Nha Trang 3 days 2 nights tour itinerary , you can go for a walk on the beach and visit all 4 islands in Nha Trang with beautiful photo spots and visit Nha Trang Center with platinum cinemas, bars, food stalls, etc. fully serve the needs of visitors.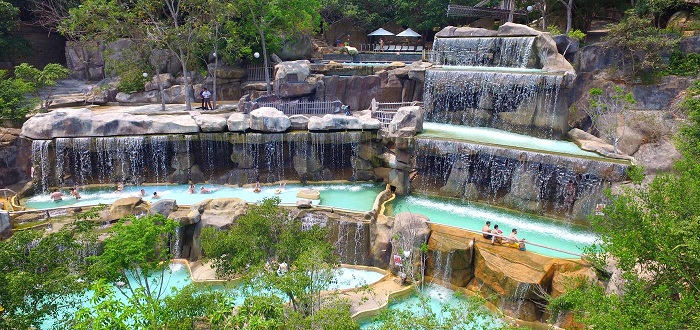 Next, you should visit at I – Resort at the address of group 19, Xuan Ngoc village, Vinh Ngoc. This is a beautiful resort with a harmonious design style, bold traditional architectural style of Vietnam. This 6ha resort includes many different areas: church area, family mud bath area, outdoor mineral mud bath area, spa area, swimming pool, restaurant,….
Price of hot mineral mud bath service :
Tub 1 – 3 people: 300,000 VND / person
Tub 4 – 5 people: 250,000 VND / person
Bath for 6 people or more: 230,000 VND / person
Children under 6 years old: 150,000 VND / person
After taking a mud bath, you will surely feel hungry. At this time, you can enjoy delicious seafood dishes in Nha Trang. Finally, get on the bus back to Saigon, ending the Nha Trang tour 3 days 2 nights .