Monkey Island Tourism Nha Trang
Monkey Island Tourism Nha Trang
Speaking of Nha Trang tourism , we will immediately think of poetic, lyrical beaches, large international-class entertainment areas or luxury resorts. However, this beautiful coastal city still has many more interesting and attractive things for us to explore. Another special destination that if you have the opportunity to set foot here you should not miss is Monkey Island. Traveling to Nha Trang Monkey Island , you will be lost in the monkey kingdom and experience many other new things that are rarely found anywhere else.
A brief introduction about Monkey Island Nha Trang
Monkey Island, also known by other names such as Hoa Lan Island or Ho Heo Island, is a fairly famous island located in Ninh Phu commune, Ninh Hoa town, Khanh Hoa province , far from the center of the coastal city. Nha Trang is about 18km to the North. With an area of ​​more than 25 hectares, this place is currently the habitat of thousands of monkeys. Unspoiled natural landscapes, fresh air and diverse ecosystems are the factors that make Nha Trang Monkey Island tourism more and more attractive to tourists, especially for those who like to experience, love discover.
Monkey Island Nha Trang was formerly known as Hon Lao. In 1975, Russian experts brought monkeys to this island for scientific research purposes. More and more monkeys are born day by day and now the number has reached thousands. Therefore, people often compare this island to the kingdom of monkeys. Traveling to Nha Trang Monkey Island , you can not only watch and play with lovely monkeys, but also have the opportunity to immerse yourself in the fresh and unspoiled natural space.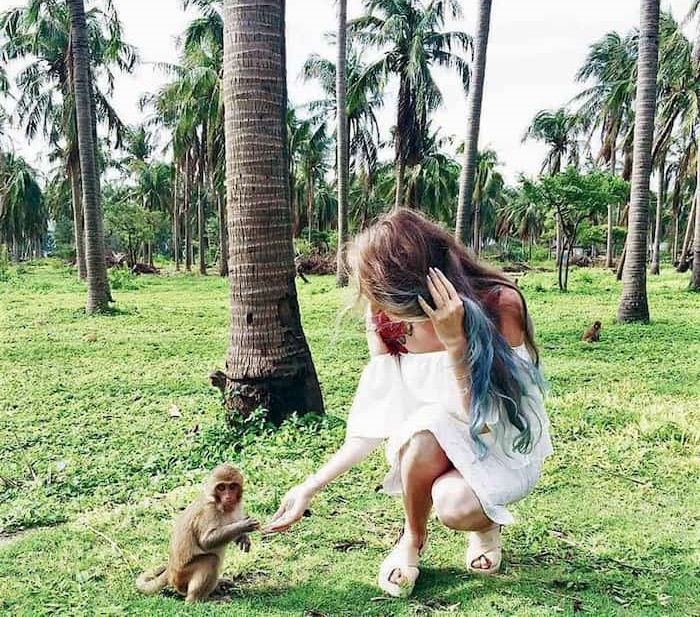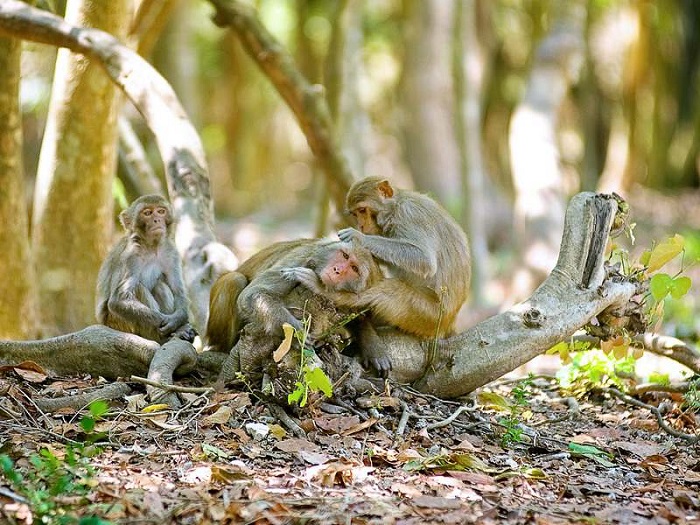 >> See more:  Discovering Nha Trang with useful experiences
What time of year should you visit Monkey Island Nha Trang?
Weather in Nha Trang is divided into 2 seasons in the year including rainy season and dry season. According to Monkey Island travel experience , in order to have a favorable trip, you should choose the time to go in the dry season, from January to August every year. At this time, although it is quite hot, but when you arrive in Nha Trang, you still feel cool and comfortable. If you intend to travel to Nha Trang and visit Monkey Island in the period from September to December, you need to pay attention to the weather forecast to avoid stormy days.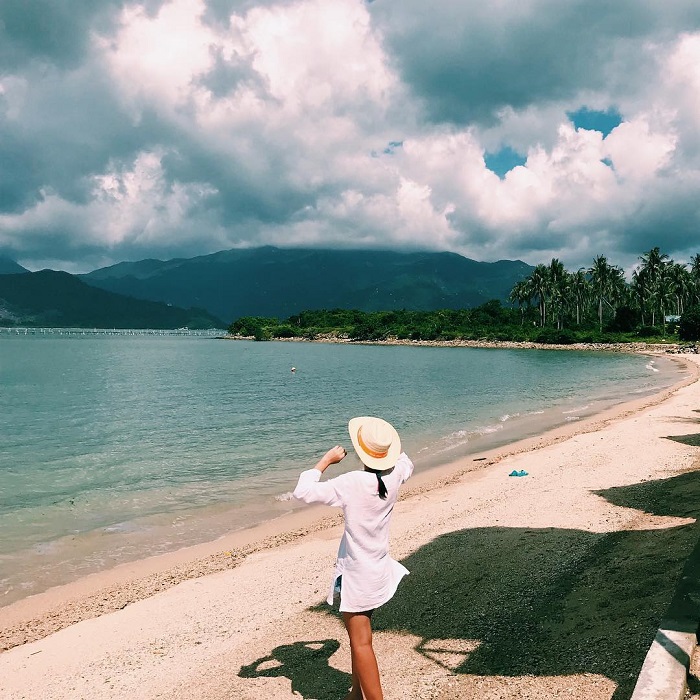 How to get to Monkey Island Nha Trang?
To travel to Nha Trang Monkey Island , you need to travel by boat. This island is located about 18 km north of the city center area. From the city center, you can move to Long Phu pier by taxi or rent a motorbike. After arriving at the pier, you continue to buy a train ticket to Monkey Island with the price of about 180,000 VND / 1 adult and 90,000 VND / 1 child ticket. Note that this ticket price includes a ticket for transportation by canoe both ways, fees to visit the island, see the circus and experience extremely interesting entertainment and activities on the island.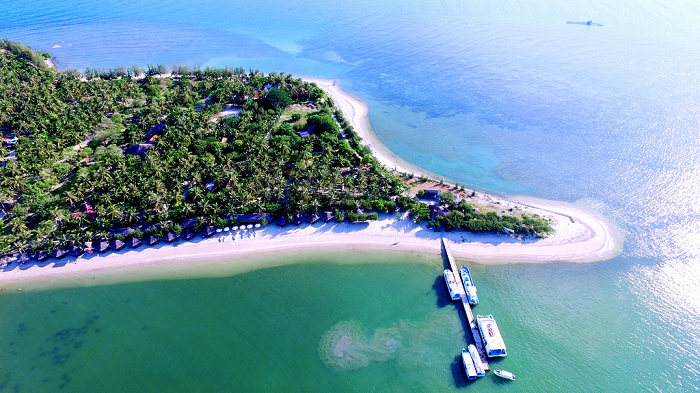 Interesting experiences not to be missed when traveling to Monkey Island Nha Trang
Have fun with funny animals
Dubbed the kingdom of monkeys, when you set foot on this island, you will see lovely monkeys playing everywhere. You will certainly feel extremely amused by their mischievous, intelligent. Being immersed in the unspoiled natural space, breathing the fresh air and playing with lovely monkeys will be an unforgettable experience in your Nha Trang trip.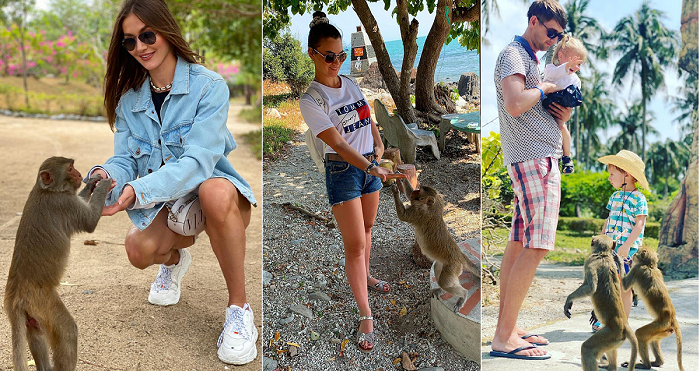 Enjoy the unique monkey circus
One of the extremely interesting experiences that anyone traveling to when traveling to Nha Trang island cannot miss is watching the monkey circus. Monkeys are inherently intelligent and agile. Through the training of professional trainers, they become talented artists, giving the audience extremely attractive and interesting monkey circus performances.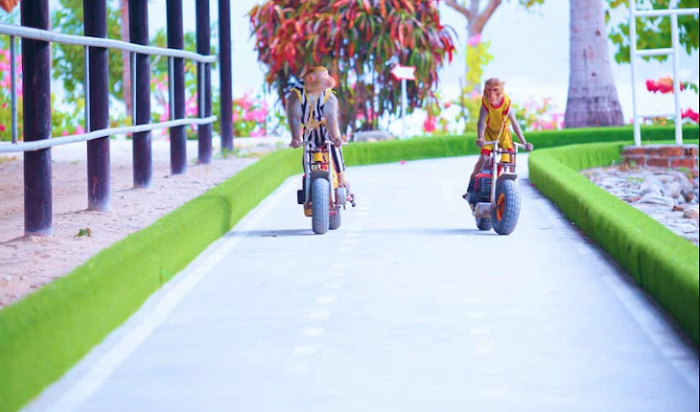 Pick up the car with thrilling dog races
Coming to Monkey Island, in addition to watching the monkey circus, you also have the opportunity to enjoy extremely thrilling dog races. The dog track here is only about 200 meters long, but promises to bring you extremely interesting experiences.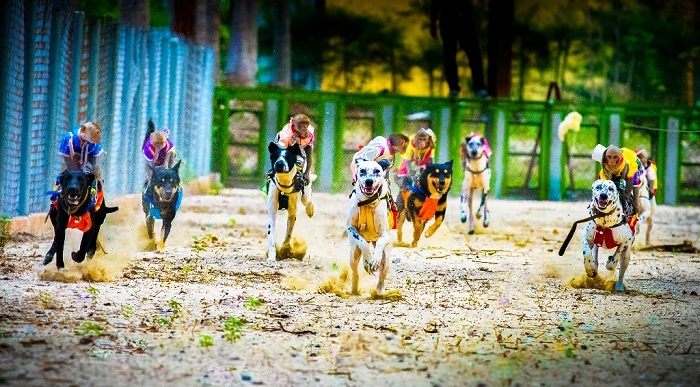 Diving
It will be extremely regrettable if you come to Monkey Island, you will miss the opportunity to scuba dive and explore the colorful ocean world here. Even if you are not a good swimmer, with the help of diving equipment and the staff here you can still freely explore the colorful sea creatures.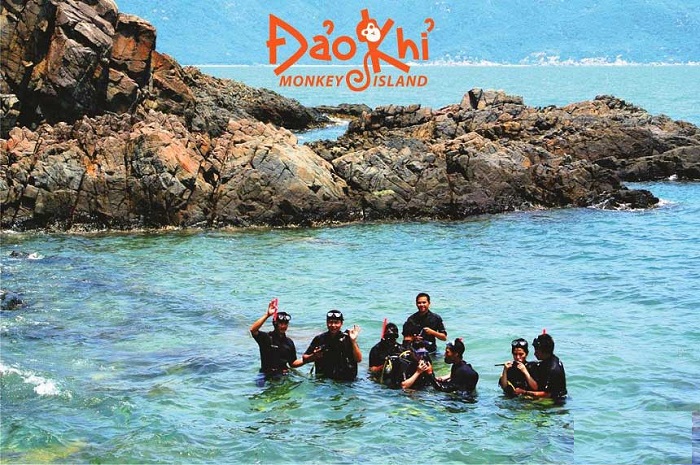 Floating park experience
Traveling to Nha Trang Monkey Island , you also have the opportunity to experience extremely interesting games at the floating park on the sea surface of more than 2000 square meters. This place currently owns 48 different games, with all levels, promising to bring you memorable experiences.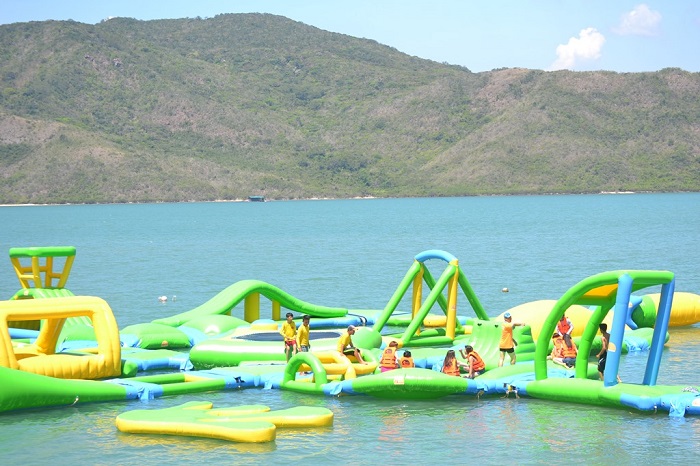 Racing Prokart
If you are an adventurous person, you will definitely not be able to miss the Prokart racing game when coming to Monkey Island Nha Trang . This is a form of sports racing car that has been adjusted to suit all audiences. You will be able to control the car yourself with a speed of hundreds of km / h on a winding road.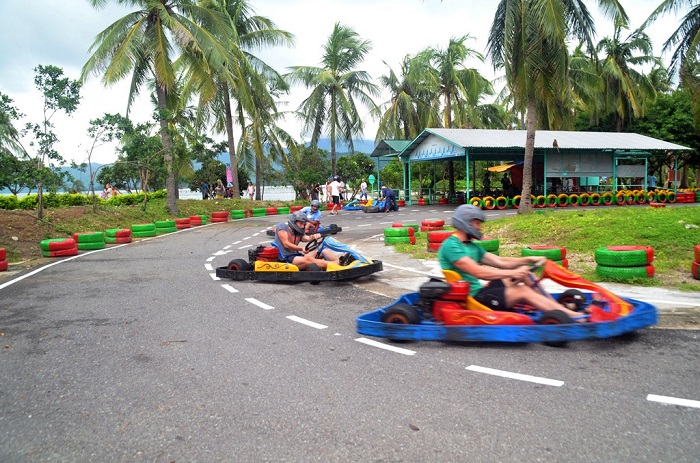 Enjoy delicious food
Huong Su restaurant located on the beautiful Monkey island is considered a great place for you to enjoy delicious and attractive dishes. The restaurant owns a spacious and airy space right next to the beach. You can both enjoy delicious food, feel the cool sea breeze and breathe the fresh air.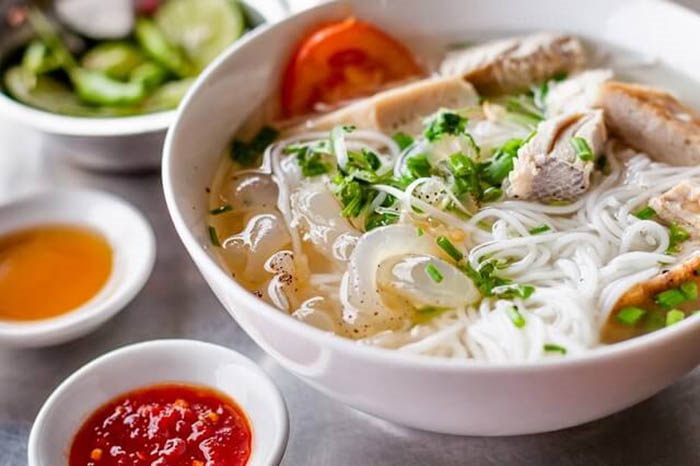 Some things you need to note when traveling to Monkey Island Nha Trang
Monkeys are very funny and cute, but they are also quite active and mischievous. When visiting the island, you should not wear necklaces or bracelets because they can snatch you.

You can feed the monkeys, but do not touch their heads or touch them with your hands.

Prepare enough sunscreen, hat, eyeglasses, camera, phone to enjoy an exciting day of exploring Monkey Island.
RECOMMENDED NHA TRAVEL TOUR
>> Nha Trang tour 3 days 2 nights 3,790,000 VND
>> Nha Trang tour 4 days 3 nights   Price from 5,290,000 VND
>> vinpearl Nha Trang tour  Price from 3,790,000 VND
>>  Nha Trang Binh Ba tour   Price from 2,390,000 VND
>> Nha Trang Da Lat tour  Price from 5,690,000 VND
Although Nha Trang has countless attractive entertainment and entertainment places, Monkey Island is always on the list of destinations not to be missed. Hopefully the above experiences will help you have a complete and memorable trip. Do not forget to follow the latest Khanh Hoa tourism news at website gtop.vn.