EXPERIENCE OF TRAVELING TO QUY NHON WITH THE CHEAPEST PRICE IN 2022
EXPERIENCE OF TRAVELING TO QUY NHON WITH THE CHEAPEST PRICE IN 2022
Speaking of Quy Nhon tourism , we will immediately think of a beautiful coastal city, with enchanting natural landscapes and long-standing historical sites. If you are intending to explore what is known as "Binh Dinh's Jeju Island" in the near future, do not forget to pocket the very useful Quy Nhon travel experiences below.
A brief introduction about Quy Nhon
Quy Nhon is a beautiful city located along the central coast and is considered the economic, cultural and political center of Binh Dinh province. Quy Nhon city is located in the Southeast of the province, bordering the East Sea to the East, Tuy Phuoc district to the West, Phu Cat district to the North and Song Cau town of Phu Yen province to the South. The total area of ​​Quy Nhon is about 300 square kilometers with a population of more than 450 thousand people.
Quy Nhon is likened to a beach tourism paradise of the central strip of land, with a coastline of up to 72 km. Hundreds of years ago, this place was the living place of the ancient Champa ethnic group. That is the reason when traveling to Quy Nhon Binh Dinh , besides swimming, discovering beautiful natural landscapes, you also have the opportunity to learn about the rich Champa culture.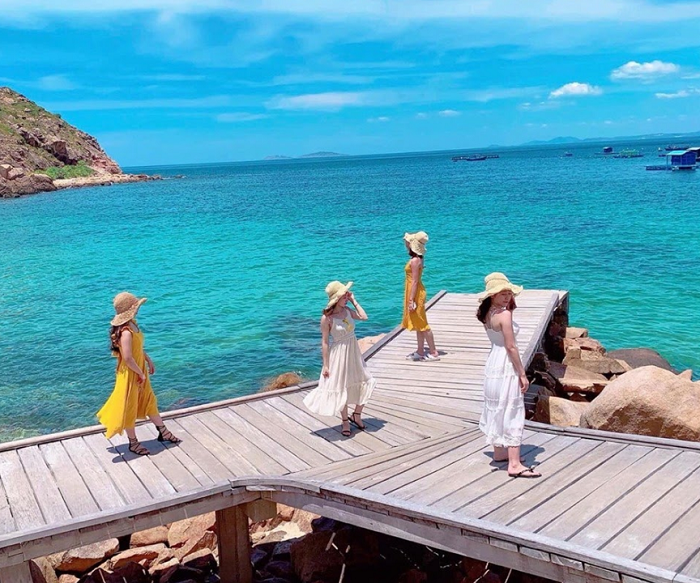 What time of year should you travel to Quy Nhon?
The weather in Quy Nhon is divided into two distinct seasons of the year, the rainy season and the dry season. The rainy season usually lasts from March to September and the dry season lasts from September to February of the following year. From time to time, Quy Nhon puts on a different beauty, making every visitor fall in love.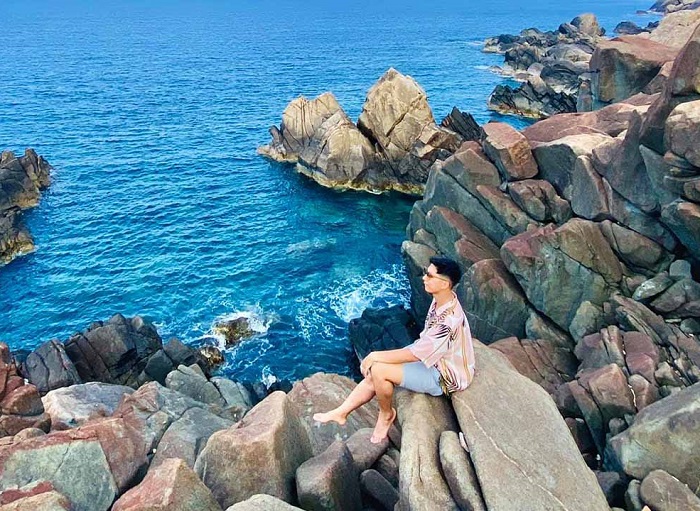 According to Quy Nhon travel experience , the dry season from March to September is considered the most ideal time to explore this city. The average temperature in the dry season is only about 32-35 degrees Celsius, it rarely rains, so it is very convenient for visitors to have fun and explore Quy Nhon.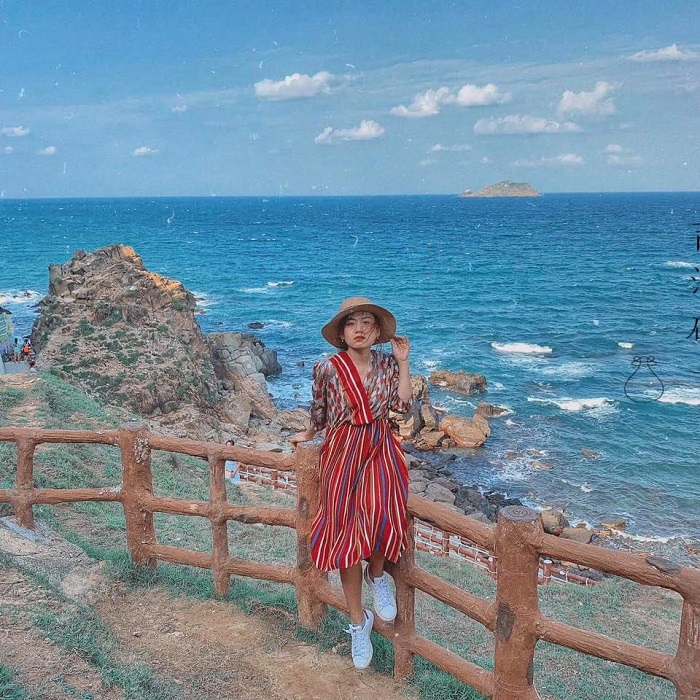 In the rainy season, especially from about September to November, in Quy Nhon there are often storms or monsoons. For those who like to travel to the sea, this is not the ideal time. However, the rainy season is also the time when the price of motels and hotels in Quy Nhon will decrease, which will definitely help you save a lot of money.

Quy Nhon travel experience: How to move
Go by plane
Airplanes are considered the fastest, safest and most convenient means of transport you can choose to travel to Quy Nhon . Popular airlines such as Vietnam Airlines, Vietjet, Jetstar or Bamboo all operate routes from Hanoi or Saigon to Quy Nhon. The plane will land at Phu Cat airport located about 30 km from the city center. You can take a taxi, motorbike taxi or bus to get into the city.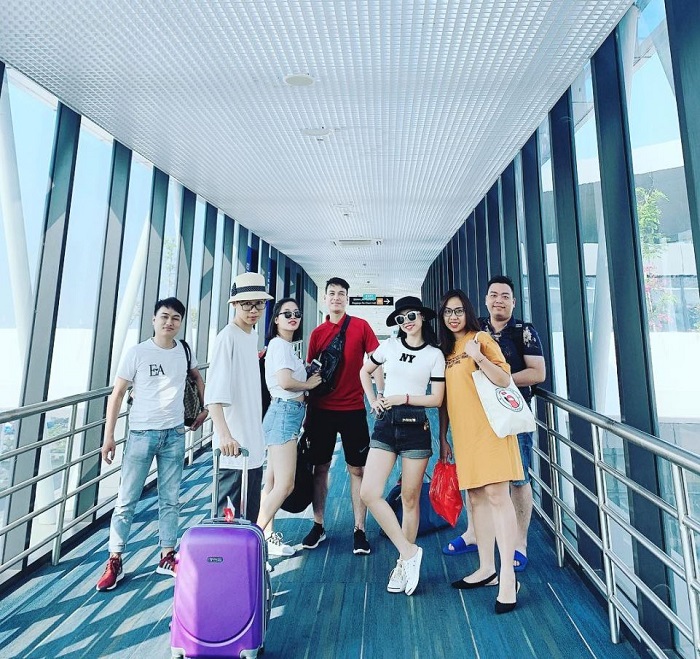 By bus
Quy Nhon is located more than 1000 km from Hanoi capital and about 650 km from Saigon. In both regions, there are bus trips to Quy Nhon every day. According to cheap Quy Nhon travel experience , some reputable car companies you can choose from such as: Phuong Trang bus, Thuan Hai car, Mai Linh car, Hoang Long car, etc.
Go by train
According to the experience of traveling to Quy Nhon for 1 day , the train is also a means of transport chosen by many tourists when they want to move to this city. From Hanoi, you can take trains SE1, 3, 5, 7, 9 from Hanoi station to Dieu Tri station, about 15 km from Quy Nhon city center.
For visitors from Saigon, there is a choice of trains SE, 2, 4, 6, 8, 10, 22 stopping at Dieu Tri station or SQN2 train stopping at Quy Nhon station.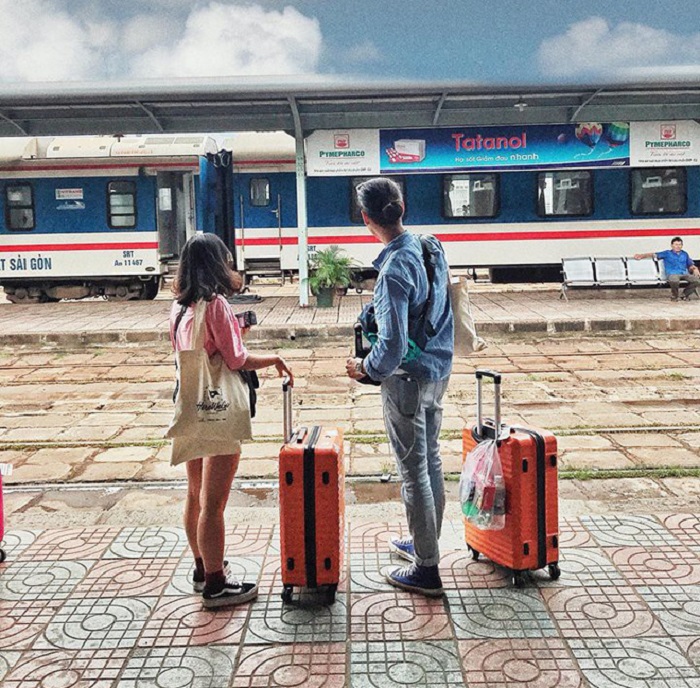 Travel experience in Quy Nhon
After arriving in Quy Nhon city, visitors also have many options to travel between attractions, here are a few suggestions:
– Rent a motorbike: As a tourist city, renting a motorbike in Quy Nhon is not too difficult. According to Quy Nhon travel experience , the average car rental price is from 120,000 VND – 180,000 VND depending on the car or scooter and does not include gas.
Car rental address:
+ Mr. Truong: No. 6 Nguyen Nhac, Quy Nhon. Tel: 0934.943.902
+ Hoai Bao: 27A Hoang Hoa Tham, Quy Nhon. Tel: 0935. 212,589.
+ Empty Motorbike: 278/3 Nguyen Thai Hoc, Le Hong Phong, Quy Nhon city. Tel: 0933 544 422.
Taxi: Taxi network in Quy Nhon is also very developed. For groups of people and families with the elderly or young children, taxis are an optimal means of transport. There are many different companies such as Mai Linh Taxi, Sun Taxi, Quy Nhon Taxi… with prices ranging from 13,000VND – 16,000VND/km.
– Renting a tram: Although it is new, this is still the choice of many tourists because of its convenience to visit. There are companies such as Sun Taxi and Quy Nhon tram which are currently operating for about 250,000VND/trip with a distance of 10km.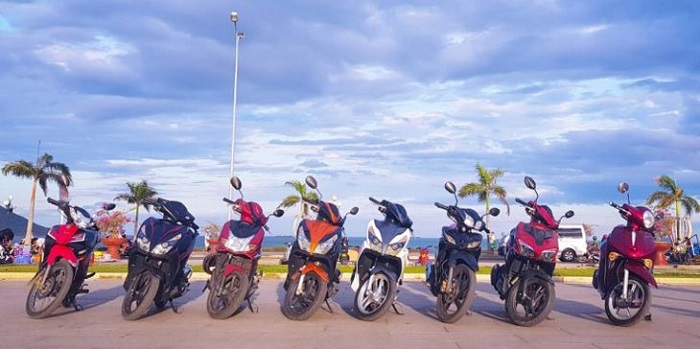 Where to stay when traveling to Quy Nhon?
In the area of ​​Quy Nhon city, there are more than 200 hotels and motels with the number of about 5000 rooms, enough to serve a large number of tourists. According to Quy Nhon travel experience , here are some quality accommodation places you can choose for your upcoming trip.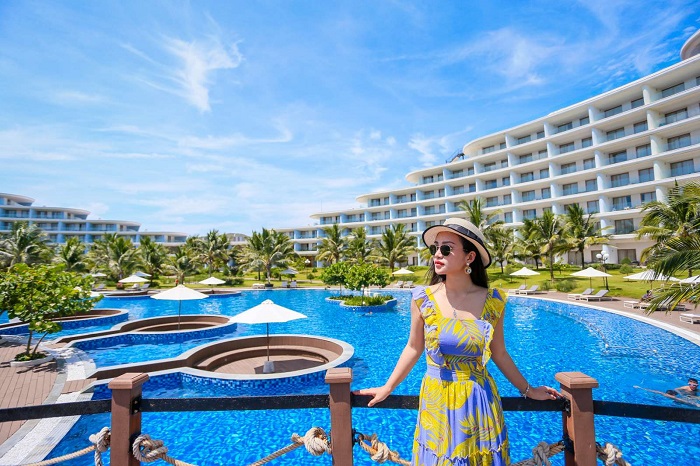 Some beautiful resorts in Quy Nhon are loved by many tourists:
Crown Retreat Quy Nhon Resort
Address: Trung Luong Hamlet, 1 Tel 640, Cat Tien, Quy Nhon, Binh Dinh
AVANI Quy Nhon Resort & Spa
Address: Long Beach, Ghenh Rang, Quy Nhon City, Binh Dinh
FLC Quy Nhon Luxury Resort
Address: Zone 4, Nhon Ly – Cat Tien Beach, Nhon Ly Commune, Quy Nhon City, Binh Dinh
Casa Marina Resort Quy Nhon
Address: National Highway 1D, Quarter 1, Bai Xep, Ghenh Rang Ward, Area 1, Quy Nhon, Binh Dinh
Suggest some budget hotels for cheap and economical Quy Nhon travel:
Mira Hotel Quy Nhon
Address: 11A Ngo May, Nguyen Van Cu Ward, Quy Nhon City, Binh Dinh Province
The Cactus Hotel
Address: 254 Nguyen Thi Dinh, Quy Nhon, Binh Dinh
An Ngan Phu Hotel
Address: 186 Dien Hong, Quy Nhon, Binh Dinh
Delight Hotel
Address: 07 Le Loi, Quy Nhon, Binh Dinh
Famous Quy Nhon tourist destinations that must be discovered
Waist Wind
Speaking of famous tourist destinations in Quy Nhon , surely the first name to mention is Eo Gio. This is a beautiful place located in Nhon Ly commune, about 20 km from Quy Nhon city center.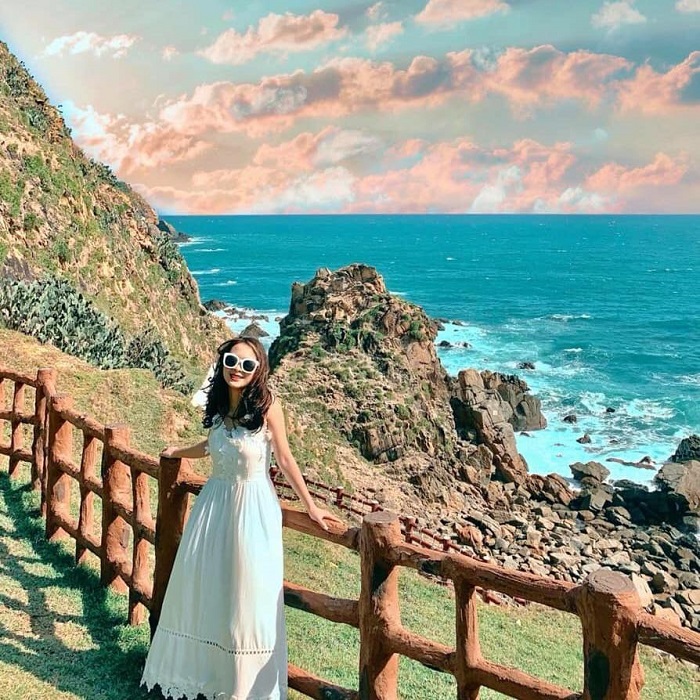 Eo Gio Quy Nhon possesses a wild and romantic beauty, making anyone who comes to be surprised. The majestic limestone rocks lying winding on the beach, combined with the long terraced path as far as the eye can see, create a super quality virtual living background for visitors.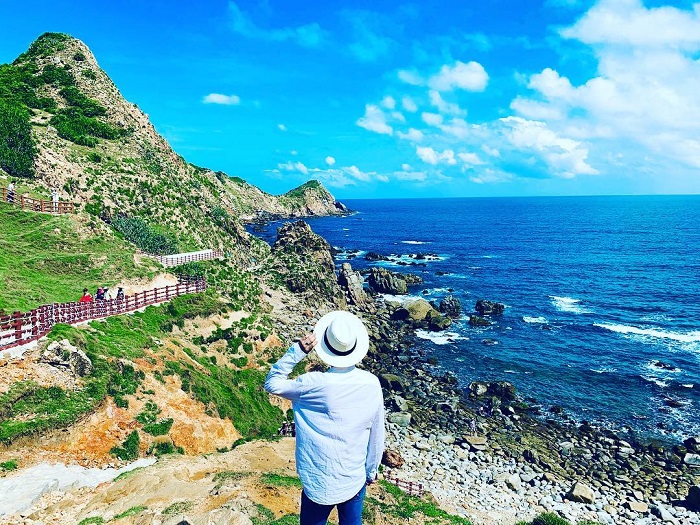 Ky Co Island
According to experience when traveling to Quy Nhon , you should not miss the opportunity to explore Ky Co island. This is considered one of the most beautiful islands of Binh Dinh province, located in Nhon Ly commune, right near Eo Gio. Ky Co Island captivates visitors by a peaceful, unspoiled scene and a fresh, cool and pleasant atmosphere.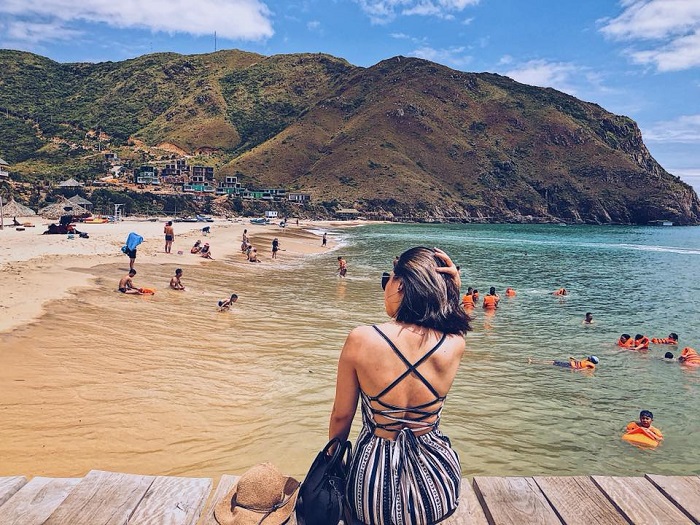 One of the things that attracts visitors to Ky Co is the color of the sea. The sea here is divided into two distinct colors. If the area near the water is clear blue, the farther from the shore, the water turns dark blue, creating an extremely unique and impressive scene.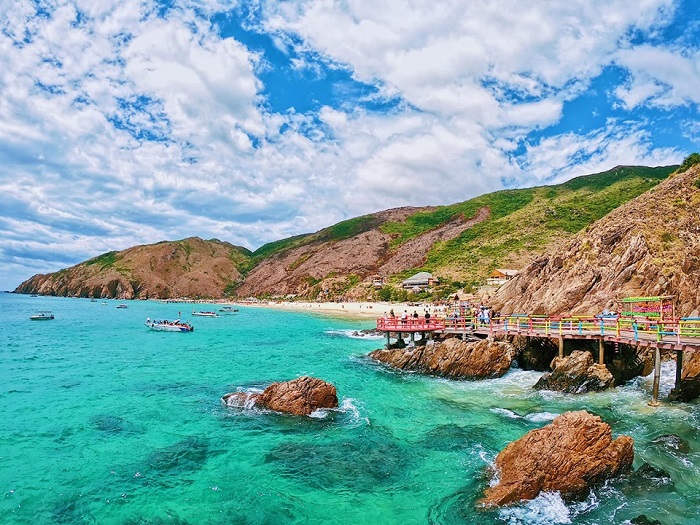 Hon Kho Island
According to Quy Nhon travel experience , another island that also contains a lot of interesting things you should discover is Hon Kho island, located in Hai Dong village, Nhon Hai commune, far from Quy Nhon city center about 16 km.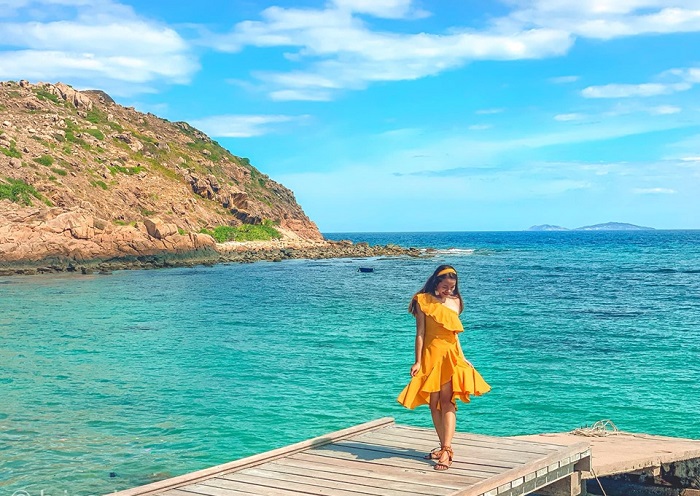 Like many other islands in Quy Nhon, Hon Kho owns a beautiful wild and peaceful setting with clear blue sea water and fine white sand. The island is almost uninhabited. So when you come here, you will really be immersed in nature, away from all the noise in the city to enjoy moments of true rest and relaxation.
>> Details: 3 beautiful islands in Quy Nhon for an exciting 'summer cooling' trip
Phuong Mai Sand Dunes
Binh Dinh is known as the land of sun, wind and sand. This place not only has beautiful pristine beaches but also owns a smooth sand hill, stretching like a silk strip, which is Phuong Mai sand hill. This famous tourist destination in Quy Nhon is located on Phuong Mai peninsula, about 20 km from the city center.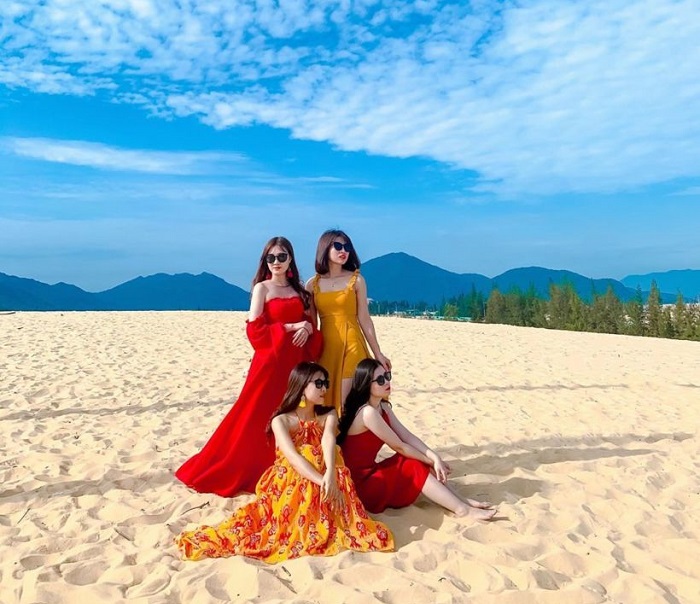 Phuong Mai sand dune is considered one of the most beautiful sand dunes in the central region. This place has sand dunes from a few tens of meters to hundreds of meters. Standing in the middle of the sand dunes, you will feel how small you are. Experience Quy Nhon travel 4 days 3 nights , explore Phuong Mai sand dunes, you can not only check in virtual life but also experience many interesting fun activities such as: sand skiing, moto riding on the sand, …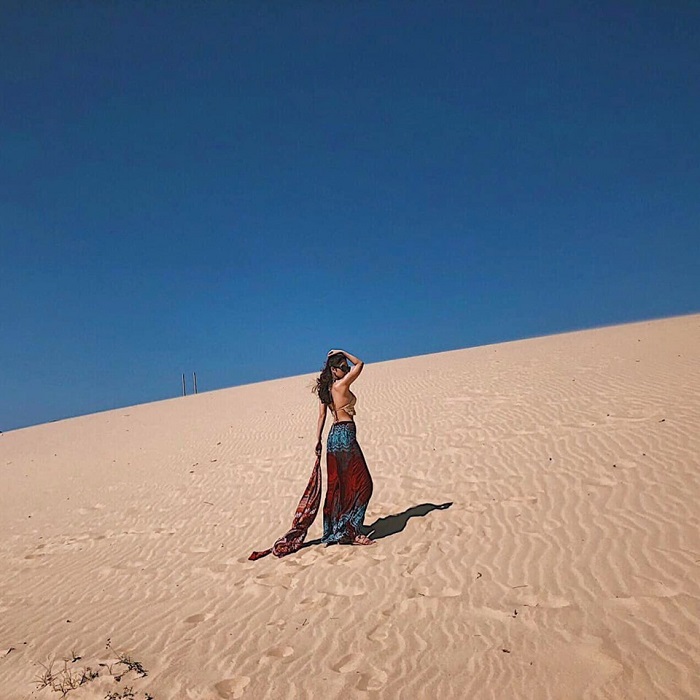 Trung Luong picnic area
Trung Luong picnic area is also considered a destination you should not miss in the upcoming self-sufficient Quy Nhon trip. This place is located right on the poetic and lyrical coast, about 25 km from the city center.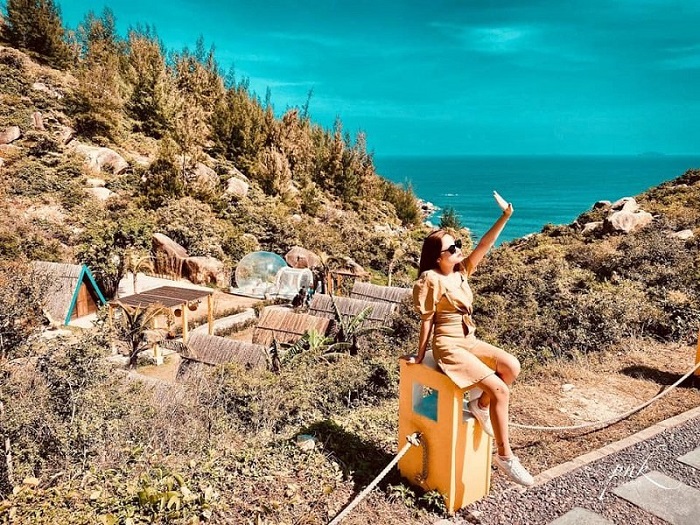 Trung Luong picnic area is open from 8 am to 8 pm every day of the week. Coming here, you will experience many interesting activities such as camping, swimming, organizing BBQ parties by the beach, ….
=> Detailed suggestion: Beautiful check-in place in Quy Nhon you should not miss
Zoo Zoo Safari Park
Zoo Safari Park is a large wildlife park invested and built by FLC Group and officially opened in March 2017. With an area of ​​about 130 hectares, this place is currently nurturing and conserving about 900 animals, including many rare species such as deer, black swan, etc.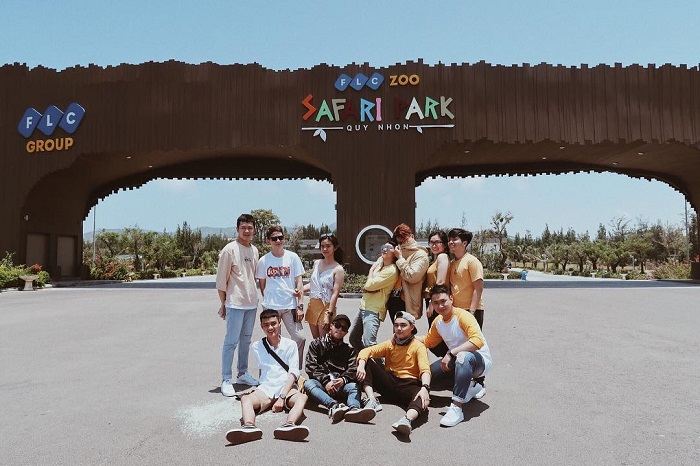 Coming to Zoo Safari Park , besides seeing wild animals with your own eyes, you also have the opportunity to participate in many other activities such as boating, biking, taking pictures with animals, etc.
Quy Nhon specialties visitors should enjoy
Quy Nhon not only attracts people by its pristine beaches full of sunshine but also makes visitors fall in love with its unique cuisine. According to the experience of traveling to Quy Nhon 2 days 1 night , here are the famous specialties you must definitely enjoy when you arrive in this city.
Jumping shrimp pancakes
Jumping shrimp pancake is a famous Quy Nhon specialty dish  , loved by many tourists. The reason this dish has such a unique name is because when processing, people only use the best fresh shrimp, still jumping and just caught. Along with a separate cake recipe, Quy Nhon jumping shrimp pancake gives diners a different taste compared to pancakes in many regions across the country.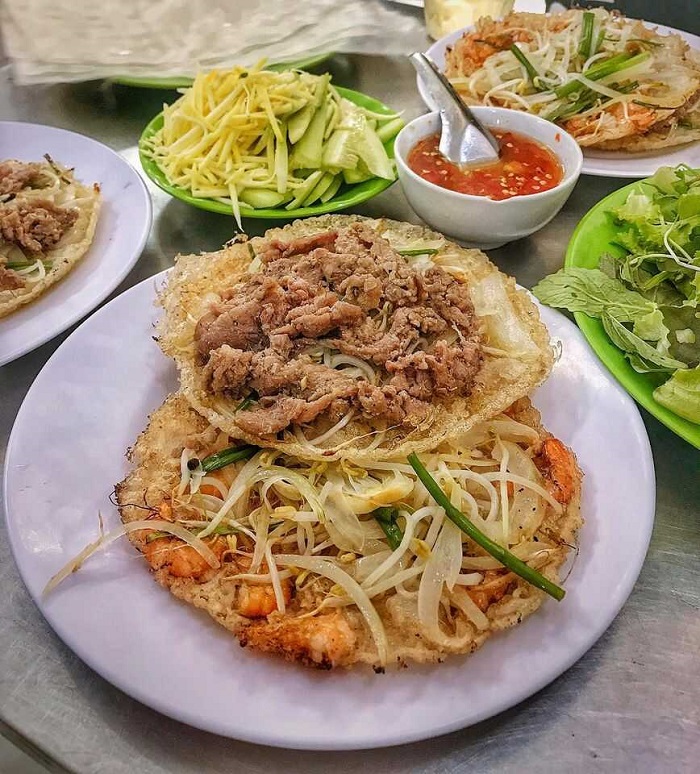 Address to eat Quy Nhon jumping shrimp pancakes:
Gia Vy dancing shrimp pancakes – 19 Dien Hong, Quy Nhon city.
Ray sprout restaurant 91 Dong Da
Price: 15,000 VND – 35,000 VND/person.
Cake asking for pork heart
The cake and pork belly seem to be two dishes that have nothing to do with each other. But with an ingenious combination, the people of Quy Nhon can create an irresistible delicious dish. Looking at the plate of fragrant white rice cake with the fatty pork intestines arranged neatly on the plate, you just want to enjoy it right away. According to Quy Nhon travel experience 3 days 2 nights , you can enjoy pork belly cake at many places, from popular eateries to luxury restaurants.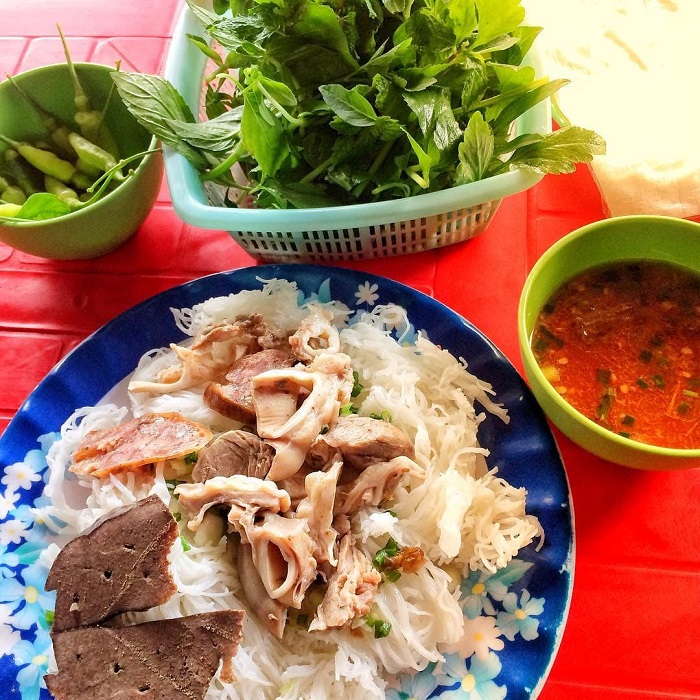 Address to enjoy pork belly cake:
Hong Thanh restaurant: 22 Phan Boi Chau, Quy Nhon
Man's pork belly cake: 76A Tran Phu, Quy Nhon
Pancakes asking for porridge in the heart of Dien Hong: 145 Dien Hong, Quy Nhon
Price: 20,000 VND – 35,000 VND.
Quy Nhon fish noodle soup
Another delicious Quy Nhon dish that is also quite famous you should not miss is fish noodles. This dish is still considered as the "soul" of Quy Nhon cuisine.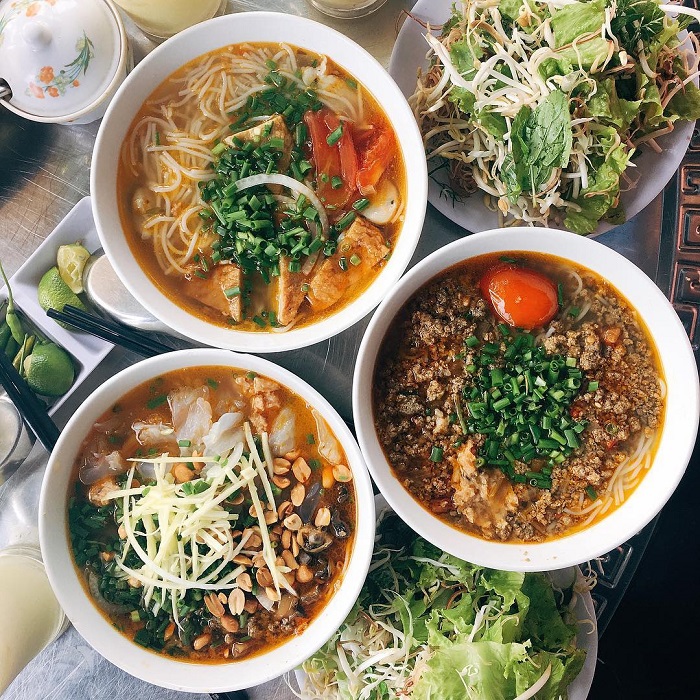 Quy Nhon fish noodle soup has a rather sophisticated way of processing. From the stage of making vermicelli, making fish cakes to simmering the broth, all must be done in an extremely skillful and meticulous way. Enjoying a bowl of fish noodles, you will feel all kinds of sweet and sour flavors. All combine harmoniously to create a famous specialty dish, making every diners flutter.
Address to eat fish noodles in Quy Nhon:
Ngoc Lien fish noodle soup: 379 Nguyen Hue, City. Quy Nhon
Phuong Teo fish noodle soup: 209 – 211 Nguyen Hue, Tran Phu Ward, City. Quy Nhon
Ho Thi fish noodle soup: 279 Tran Hung Dao, City. Quy Nhon
Price: 30,000VND – 40,000VND
Banh beo
In the list of the most famous Quy Nhon specialties , it is definitely indispensable for banh beo. The cakes are neatly placed inside the pretty little cup. Above the white cake are green onions, peanuts, and shrimp. All create a dish that is not only delicious in taste but also extremely eye-catching. What could be more wonderful than enjoying a hot banh beo with a bowl of sweet and sour dipping sauce? Everything seems to melt in the mouth, how does it stimulate the taste buds.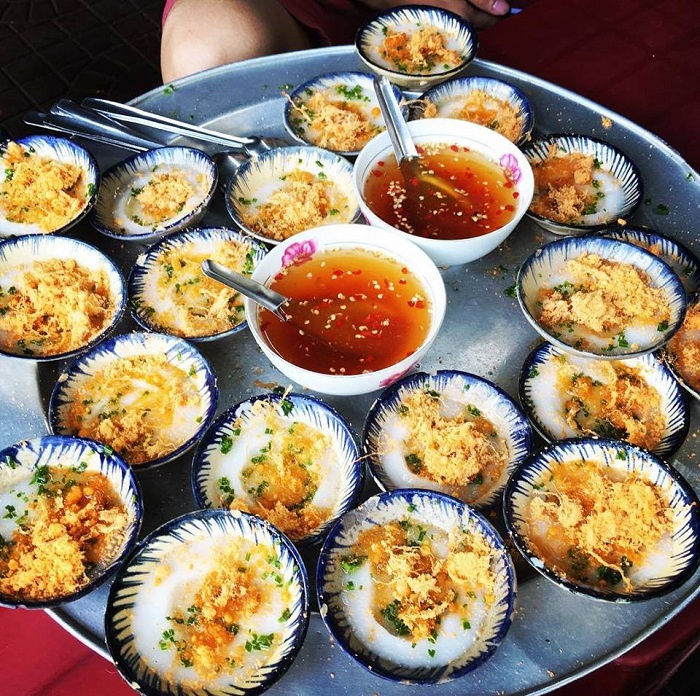 Address to eat Quy Nhon beo cake:
Banh beo plum tree: 742 Tran Hung Dao
Banh Beo Ba Xe Quy Nhon: 50/22C Nguyen Thai Hoc
Banh beo Tran Thi Ky: 35 Tran Thi Ky
Kim Dinh beo cake – 20 Nguyen Hue
Price: 2-3k/cup.
What do Quy Nhon tourism buy as a gift?
Nem chua district market
According to Quy Nhon travel experience , if you are still wondering what to buy as a gift, then Nem chua district market is a great suggestion for you. Nem chua is a popular dish and is available in many regions. However, when enjoying spring rolls in Quy Nhon district market, you will feel a completely different taste.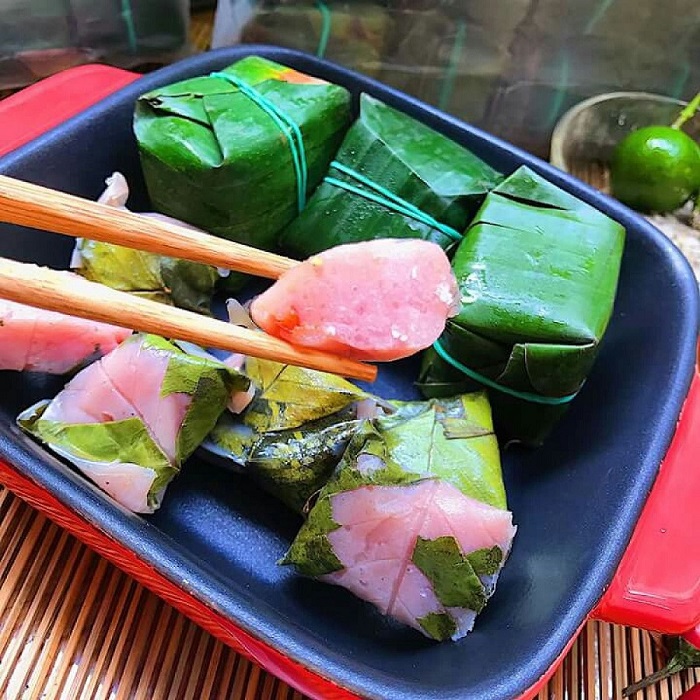 The main ingredient for making spring rolls is still lean meat. However, the outside will be wrapped with fermented guava leaves along with banana leaves. So when enjoying, you will feel the extremely special guava leaf flavor.
Dried seaweed
One of the  specialties of Quy Nhon bought as a gift that many tourists choose is dried seaweed. Quy Nhon is endowed by nature with an extremely delicious source of seaweed that is not inferior to the land of kimchi.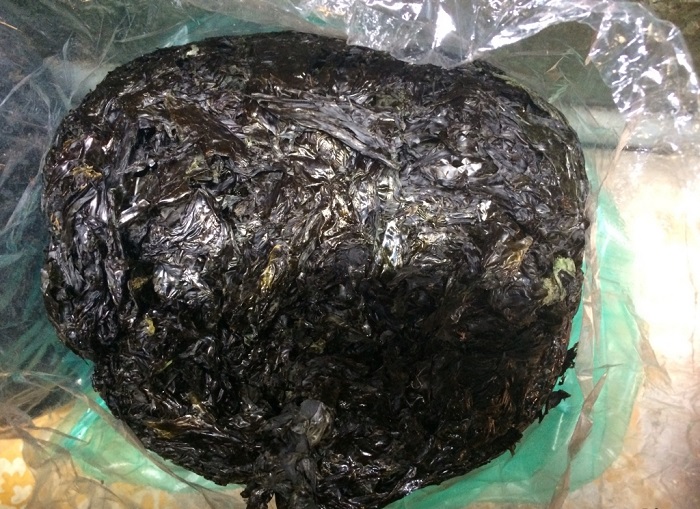 Seaweed is a food that is not only delicious but also contains many nutrients that are very good for health. You can easily buy dried seaweed at any market in Quy Nhon at an extremely affordable price.
Pink cake
Pink cake is a famous Quy Nhon specialty originating from Tam Quan, which is considered the coconut land of Binh Dinh province. Despite the name pink cake, this cake is actually white. Biting the pink cake, you will feel the toughness of the outer shell, along with the crispy coconut filling that is extremely attractive.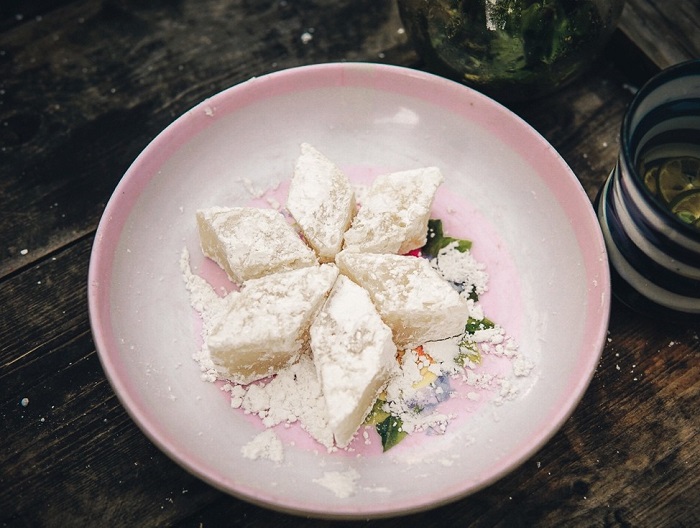 Squid with chili sauce
Quy Nhon not only has fresh seafood dishes, but also dried, processed and canned seafood such as squid and chili peppers are also chosen by many tourists to buy as gifts.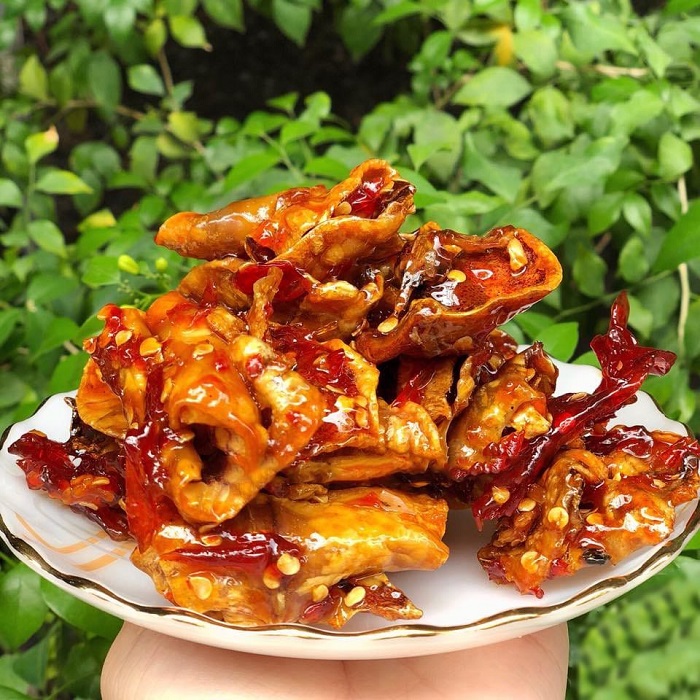 Squid after going through the drying process will be marinated with many spices such as malt, chili, garlic, sugar, etc. The spicy and sweet taste of this dish makes you fall in love from the first bite.
Green bean iced wine
If you are looking for a specialty of Quy Nhon to buy as a gift to give to men, stone wine will definitely be the ideal choice.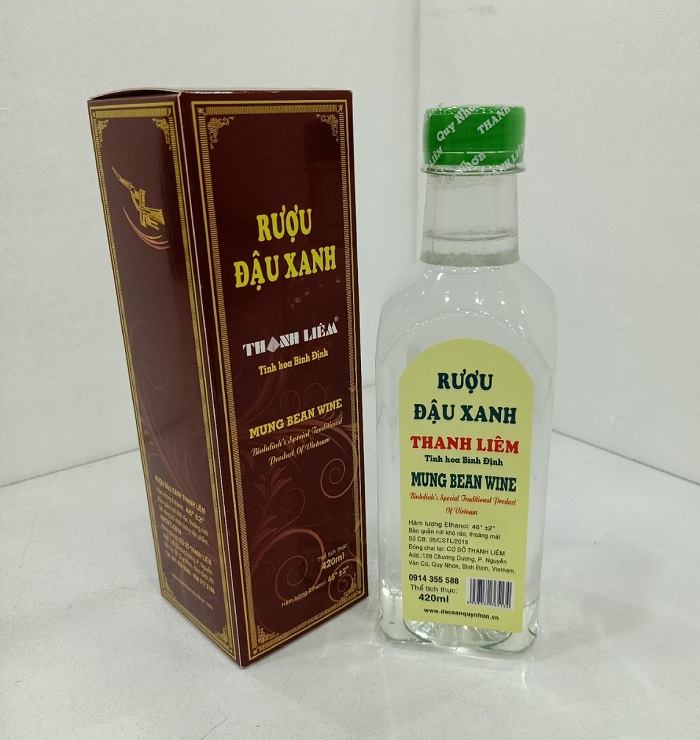 Bau Da wine is cooked according to the traditional method from premium brown rice and a special water source only available in Cu Lam village, Binh Dinh province. Although the alcohol concentration is up to 50 degrees, when you drink it, you still feel cool, refreshing and pleasant.
Suggested Quy Nhon travel itinerary 3 days 2 nights
Depending on the time budget you have, as well as the expected destinations, you schedule a reasonable Quy Nhon trip. However, to have a complete trip, a 3 day 2 night itinerary is ideal, here are suggestions from those with experience in Quy Nhon travel :
Day 1: Quy Nhon City tour: swimming, walking and enjoying food in the city. If you still have time, you can visit Ghenh Rang – Tien Sa tourist area, only about 3km from the city.
Day 2: Sightseeing, swimming, checking in famous destinations such as Ky Co, Eo Gio, Hon Kho.
Day 3: Explore and have fun on Cat Phuong Mai and Cu Lao Xanh hills.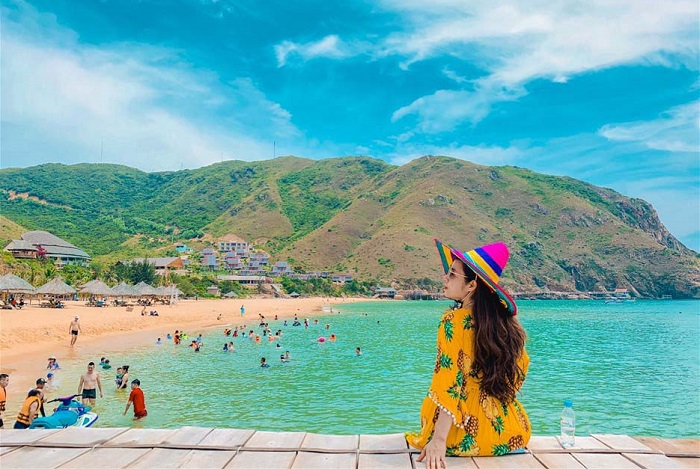 Ask and answer some questions when traveling to Quy Nhon
How to buy cheap flight tickets to Quy Nhon?
You should plan to go to Quy Nhon early to book flight tickets a few months in advance to take advantage of the airline's promotions as well as ensure tickets at the ideal flight times. For example, if you want to go to Quy Nhon from March to September, you should buy tickets from the New Year.
What to prepare when traveling to Quy Nhon?
Traveling to the beach is of course indispensable for photo shoots and bikinis. In addition, sunglasses, wide-brimmed hats, flip flops… are indispensable. Always remember to apply sunscreen before leaving the room. And bring your smartphone, camera and power bank to take lots of great photos.
What to note when booking Quy Nhon tour?
Since there are many cheap tours on the market with different times and different services, you should consider carefully to suit your habits and desires. In addition, if you want to visit and have fun on your own, there are also combos sold that only include flight tickets and hotel rooms.
Is the cost of traveling to Quy Nhon expensive?
Depending on your schedule, accommodation, spending level… the cost of the trip varies. According to cheap Quy Nhon travel experience , usually, a trip to Quy Nhon 3 days 2 nights will cost about 3,500,000 VND – 4,500,000 VND; Airfare is not included.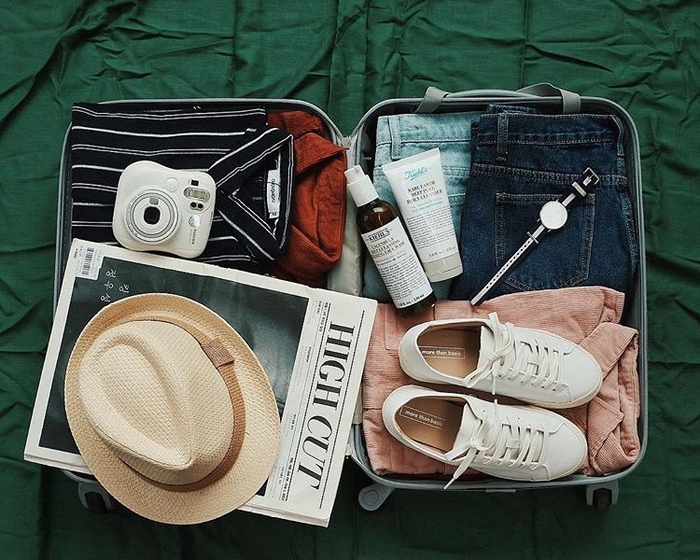 Quy Nhon tourism always gives us great experiences. Above is the full set of Quy Nhon travel experiences from a to z that Vietnam Tourism wants to send to visitors. It will definitely be useful luggage to help you comfortably enjoy an enjoyable and memorable trip. Do not forget to follow the latest Quy Nhon Binh Dinh tourism news