COCO BEACH CAMP BINH THUAN – A DREAMLIKE RESORT PARADISE
COCO BEACH CAMP BINH THUAN – A DREAMLIKE RESORT PARADISE
Coco Beach Camp Binh Thuan is likened to a virtual check-in paradise. This place can be said to be the perfect combination of amusement park, camping and resort, promising to bring you completely new and unique travel experiences. The following experiences of discovering Coco Beach Camp will make your trip more complete and memorable.
A brief introduction about Coco Beach Camp Binh Thuan
Coco Beach Camp is a beautiful campsite and resort located on Le Minh Cong street, in Mui Da village, Tan Phuoc commune, Lagi town, Binh Thuan province , about 160 km from Ho Chi Minh city center. With a prime location, peaceful, unspoiled natural scenery and fresh atmosphere, Coco Beach Camp Binh Thuan is always considered an ideal destination for young people on weekends.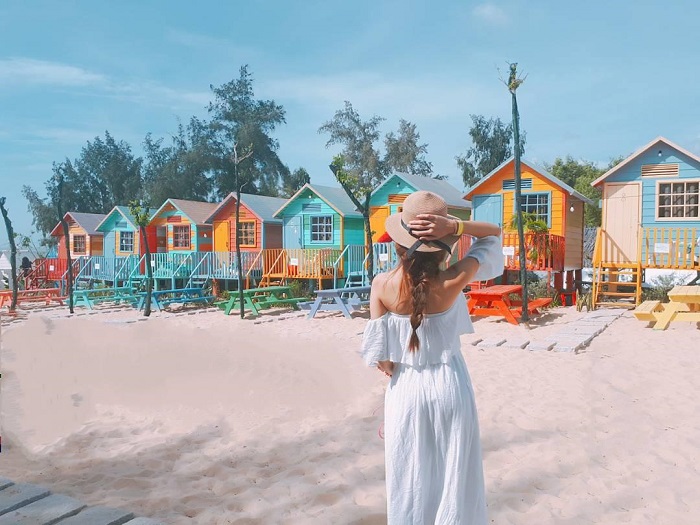 Coco Beach Camp may be a relatively new tourism model in Vietnam, so it always has a strange attraction. Here, you not only experience the familiar resort services but also have the opportunity to participate in fun and exciting activities from gentle to adventurous. Along with Phan Thiet Mui Ne tourism , Coco Beach Camp is also worthy of being a destination not to be missed for traveling devotees when arriving in Binh Thuan.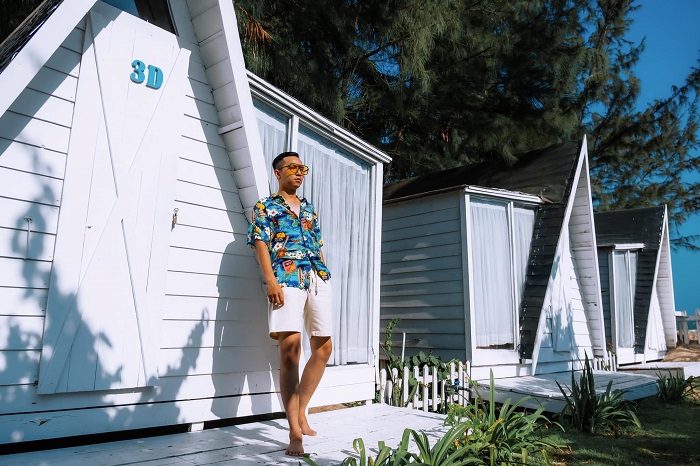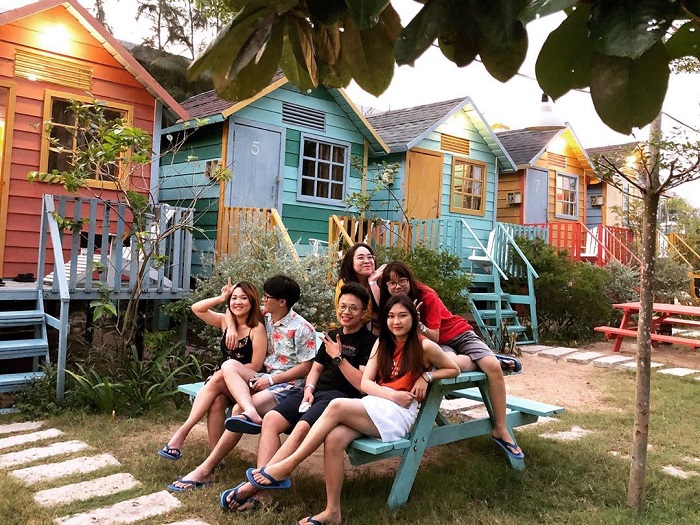 What time of year should you travel to Coco Beach Camp Binh Thuan?
Coco Beach Camp Binh Thuan is located in Lagi district, a transitional land between the South Central Coast and the Southern Delta, so the climate here is quite mild and pleasant. You can come here at any time of the year. However, the most ideal time to visit Coco Beach Camp is from March to August every year. Besides, you also need to avoid going on stormy days because it will greatly affect camping and outdoor activities.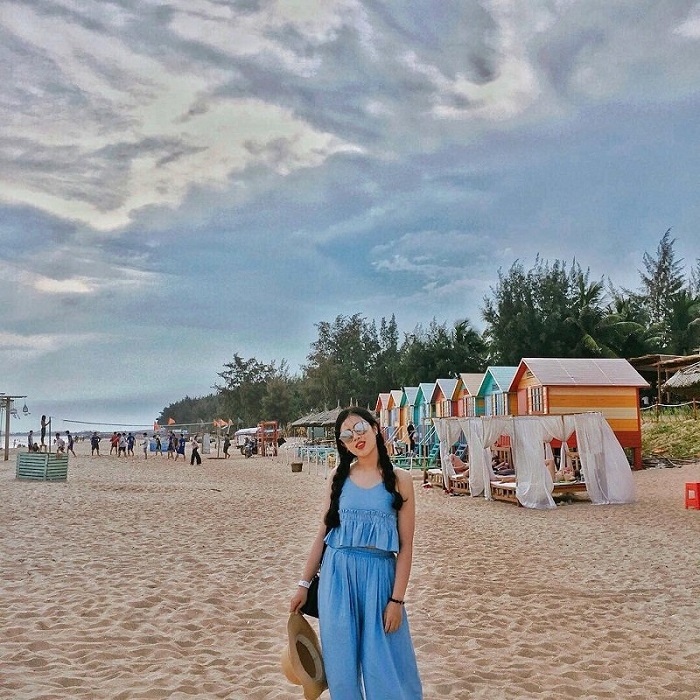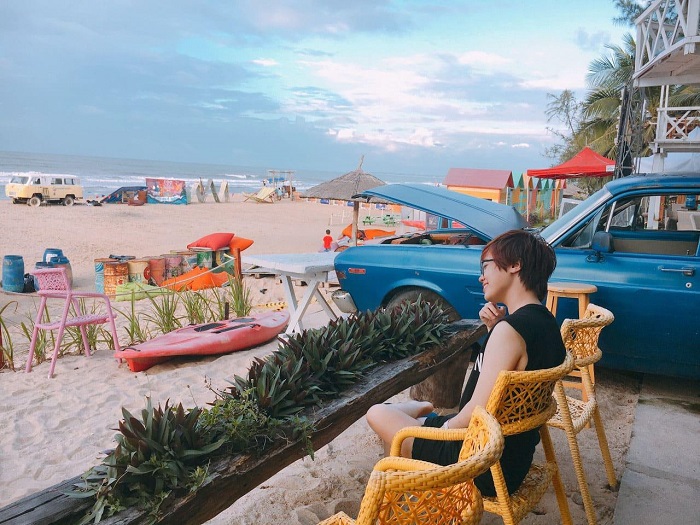 How to get to Coco Beach Camp
By bus of Coco Beach Camp
This is always a means of choice for many people when they want to travel to Coco Beach Camp Binh Thuan because of its convenience and cost savings. With only a ticket price of about 150,000 VND / person and 3 hours of travel, you will arrive at the resort. The bus picks up passengers at the following 3 locations:
No. 94 Tran Binh Trong, Go Vap district.
Cameco gas station at 3 Hang Xanh intersection.
Cat Lai intersection and Hanoi highway.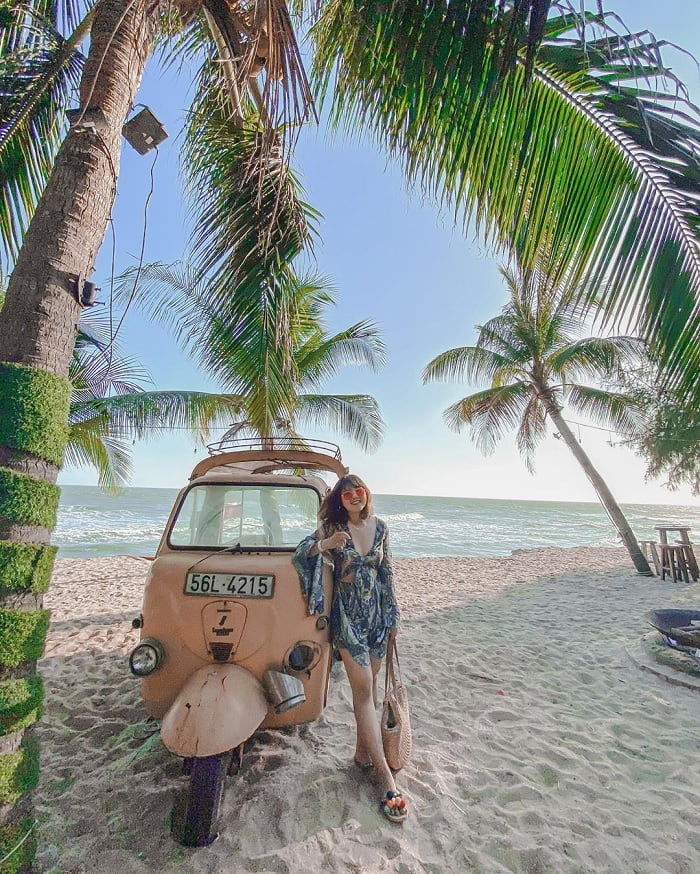 Ride a motorbike or a car
With a distance not too far, you can also go from Saigon to Coco Beach Camp by personal vehicles such as cars or motorbikes for the initiative. Starting from the center of Saigon city, you move along Highway 1 – Long Khanh – Ham Tan, turn right at the intersection 46 and then continue to turn right at Quan Canh intersection, go straight to Highway 55, to the intersection Ba Cam Binh, turn to Le Minh Cong street and run about 1km more to the tourist area.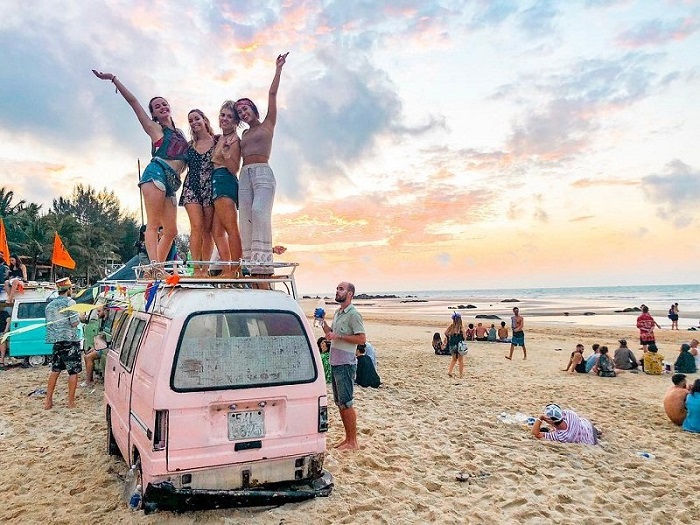 >> See more: Ke Ga Cape Tourism – A destination that contains many interesting things of Binh Thuan
What's interesting at Coco Beach Camp Binh Thuan?
Sleeping in a tent on the beach
One of the extremely interesting experiences that if you have the opportunity to come to Coco Beach Camp Binh Thuan you should not miss is to spend the night in tents on the beach. There are two types of tents for you to choose from.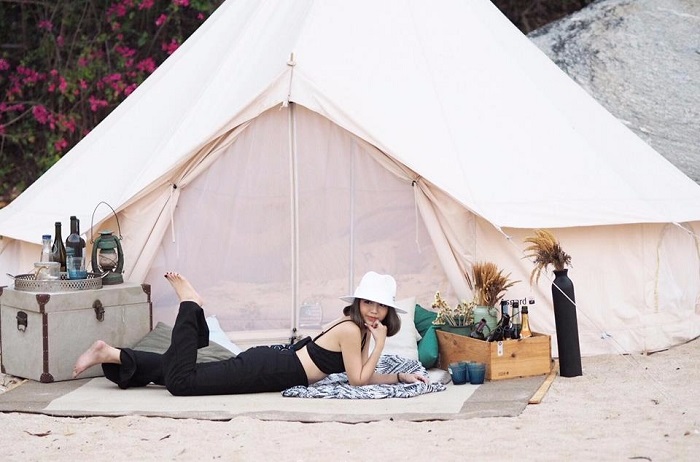 Universal tents: Available in several sizes for groups of 2 to 4 people. Inside each tent is fully equipped with blankets, pillows, electric fans. The rental price ranges from 200,000 to 250,000 VND / 1 guest.
Luxury tent: This is a luxury tent, placed on a 20 meter high hill, so it has an extremely impressive view. The rental price ranges from 250,000 VND / 1 guest from Monday to Friday and 550,000 VND / 1 person on 2 Saturdays and Sundays.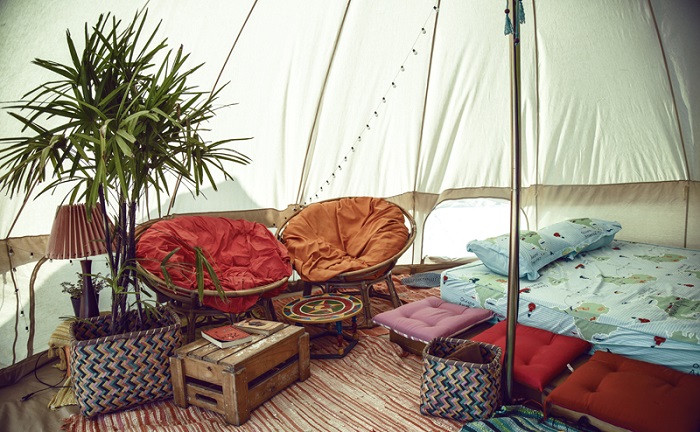 Stay in wooden houses
In addition to tents on the beach, Coco Beach Camp also has a system of many beautiful bungalows and bungalows to serve the needs of tourists. Each apartment is painted with vibrant colors, with fully furnished furniture, giving you a great resting space.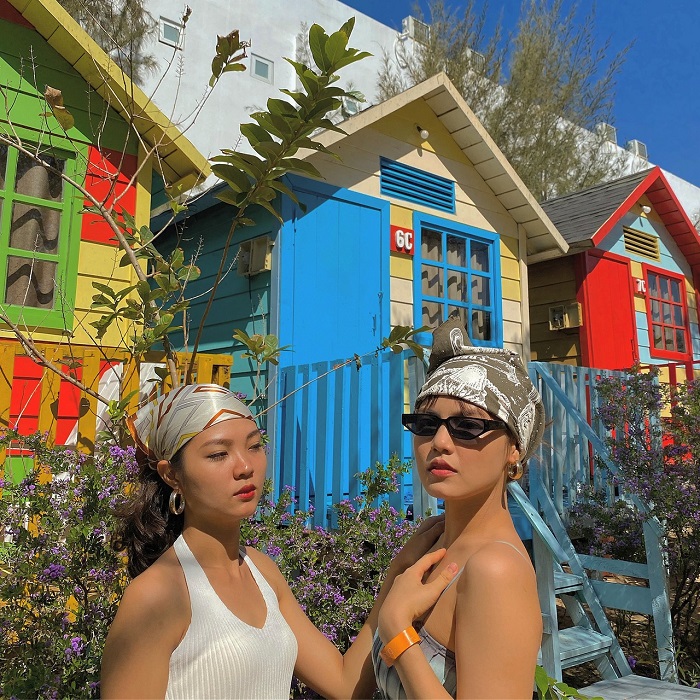 Party all night on the beach
Coco Beach Camp Binh Thuan regularly organizes parties on the beach with different themes such as: Halloween, national guests, 2.9, etc. Here, you will have the opportunity to enjoy delicious BBQ dishes and party. through the night with exciting DJ music.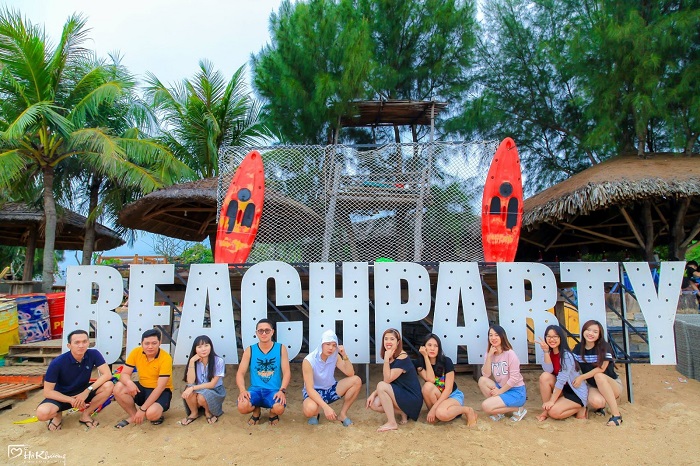 Experience fun and entertaining activities
Coco Beach Camp can be said to be a paradise destination for young people. This place has a lot of entertainment games ranging from gentle to thrilling for you to experience. Besides, the resort also regularly organizes free yoga, cooking and vegetable growing classes to provide you with more necessary skills in life.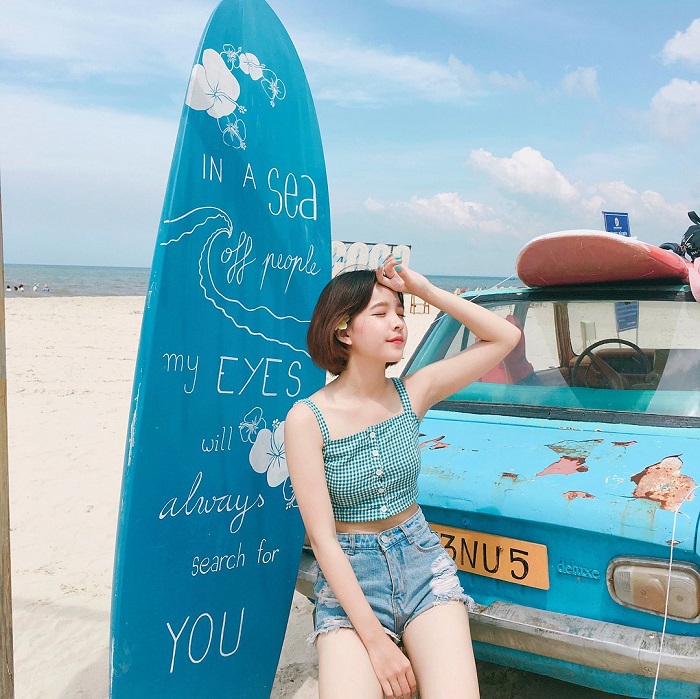 Enjoy virtual check-in
Coco Beach Camp owns a lot of luxurious virtual living backgrounds, not inferior to any expensive resort. Every detail here has been meticulously cared for. From beautiful small chairs, unique swings or colorful old cars can bring you super quality check-in pictures.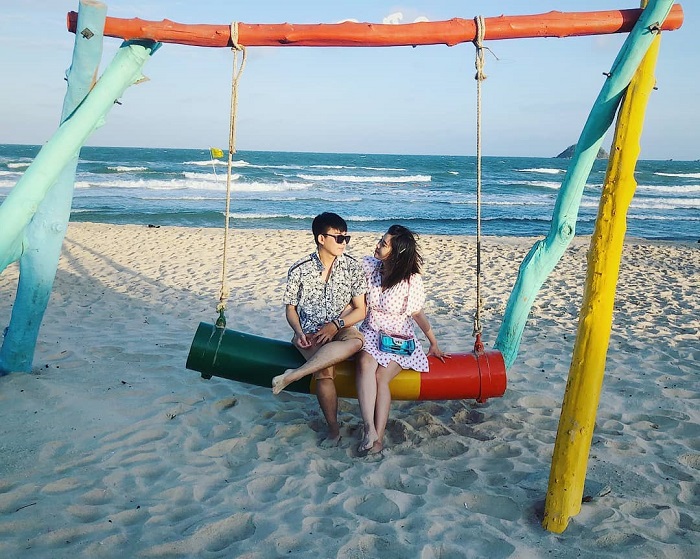 Enjoy delicious delicious food
After hours of playing at Coco Beach Camp Binh Thuan , surely there will come a time when you feel hungry. This is the time for you to enjoy the delicious food here. Pancakes, spring rolls, seafood are all delicious dishes that you must definitely enjoy at Coco Beach Camp.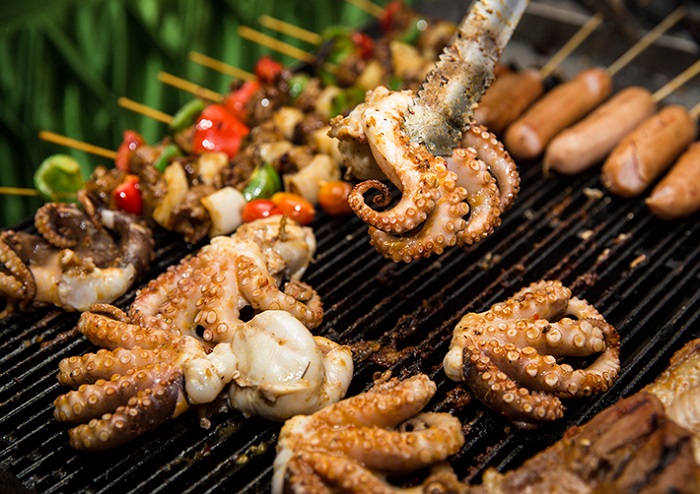 A few things you need to keep in mind when exploring Coco Beach Camp
From Phan Thiet station, if you want to have a shuttle to Coco Beach Camp, you can contact the hotline 19001761 for advice.
There are no hotels or motels in the surrounding area. So you need to prepare all necessary personal items. Don't forget to bring a bottle of insect repellent spray.
The weather in Binh Thuan is quite hot. So you and your members should prepare a lot of drinking water to avoid having to buy more here.
The waters at Coco Beach Camp are quite clear and clean, regularly cleaned and sanitized. Therefore, you need to pay attention to environmental hygiene, absolutely do not litter indiscriminately.
With all the great experiences brought to visitors, Coco Beach Camp deserves to be a stop not to be missed for all visitors when coming to Binh Thuan. Besides, you can also update more of our latest Binh Thuan tourism news