Beach tourism experiences in Nha Trang that you cannot miss
Beach tourism experiences in Nha Trang that you cannot miss
Beach tourism experiences in Nha Trang always bring excitement and enjoyment to visitors. These are also activities that bring cohesion, joy, and stress relief when traveling to Nha Trang.
When is the best season to travel to Nha Trang beach?
The climate in Nha Trang is divided into 2 seasons of the year, the rainy season and the dry season, the average temperature is in the range of 26 degrees Celsius. With such mild and pleasant weather, you can go to the beaches in Nha Trang. Nha Trang in any season of the year. However, the best time is from April to August. At that time, the weather is mild, with little rain, very suitable for water activities.
Another special thing when coming to Nha Trang is that visitors will admire its very own beauty. It is the pristine and brilliant features of the sea at dawn or the charm of Nha Trang beach at sunset.
Beach tourism experiences in Nha Trang make visitors excited
1. Snorkeling in Nha Trang
The first sea travel experience in Nha Trang cannot fail to mention is scuba diving to see corals. This is a premium service as you get to dive deep into the sea floor and discover amazing creatures. Not where there is a sea, scuba diving services can be exploited. And in Nha Trang, there are all necessary and sufficient conditions for scuba diving.
The most beautiful diving spot in Nha Trang must be Hon Mun Island – the first marine life reserve in Southeast Asia. Currently, this island has about 1500 species of coral, of which 450 species are recorded in the Red Book. Moreover, here is the intersection of two cold and hot ocean currents. Therefore, in addition to diverse vegetation, Hon Mun is also home to thousands of different species of fish.
Snorkeling is the most popular experience in Nha Trang
2. Take the glass bottom boat
In some bays or at Hon Mun, visitors can take part in one of the attractive marine tourism experiences in Nha Trang that is taking a glass bottom boat. After purchasing a ticket, you will be able to sit on the train and enjoy the vibrant world of creatures under the glass bottom through the transparent glass placed right on the train. The advantage of this activity is that it is safe and suitable for many subjects.
Sitting on a glass bottom boat to explore the ocean
3. Walking under the sea
Walking under the sea is a beach tourism experience in Nha Trang that cannot be missed if you want to explore the colorful and colorful sea world. Before descending, visitors will be equipped with a professional diving helmet system connected to a snorkel. When participating in the experience, you will be meticulously guided by the staff on the use of diving suits, communication signs, tinnitus handling skills, how to walk underwater, skills to protect corals and lure fish. In the process of going under the sea, there will always be a protective team to follow to ensure the safety of visitors.
Walking under the sea
4. Flyboard
Flyboard is an adventure sport for tourists when coming to Nha Trang. When playing this game, you can control the height yourself, soaring to the surface like fantasy movies.
When you first come into contact with the flyboard, you will be guided by the trainer to familiarize yourself with the professional equipment. The device used is a jet engine, sucking water through a long pipe placed below and then pushing it out with great pressure. That thrust can lift the player into the air with a height of 9 – 10m above the water. You can go to Tranh beach, Bai Dai to participate in this activity.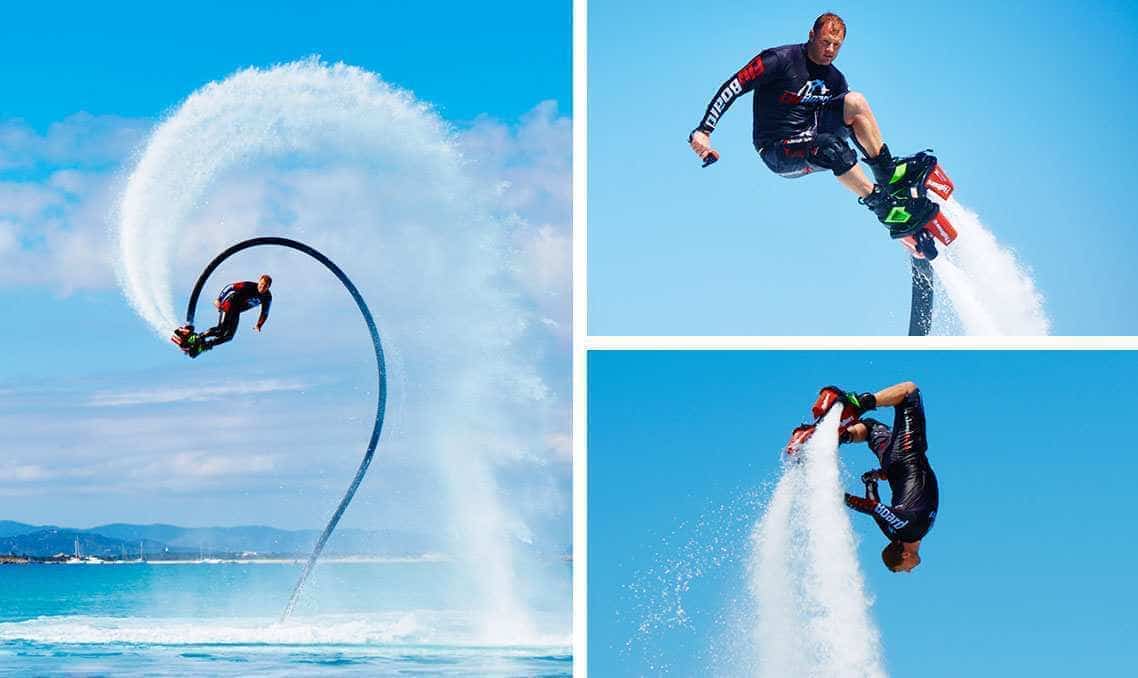 Flyboard always challenges players' psychology
5. Jetski
Jetski is both a means of transportation and a beach tourism experience in Nha Trang that attracts speed-loving tourists. Most of the beaches in Nha Tran have Jetski rentals with different prices.
When experiencing this game for the first time, visitors do not need to spend too much time getting used to how to move. It usually only takes about 5-10 minutes to get used to Jetski and how to handle it in case the car is flipped in the middle of the sea. In Nha Trang you can play Jetski at Bai Dai, Coral Bay, Hon Tam, …
Ride a jet ski
6. Parasailing
Parasailing is one of the top favorite beach travel experiences in Nha Trang. When participating, you will be firmly fixed on a parachute, then the canoe running to the sea at high speed will pull the parachute up. Although it is a risky game, parasailing still ensures the safety of visitors with life jackets, lifeline systems and support staff below. Joining that experience, you don't need to go through the familiarization course, just wait for the glue to rise and you will be able to fly high to enjoy the immense sea and sky.
However, before flying, the coach will also guide you with a few notes when flying to avoid dangers at high altitude. In case you are not confident you can go with friends.
Canoe paragliding is a fairly developed sport in Nha Trang
7. Sea fishing
One of the most popular recreational activities in Nha Trang is fishing. Visitors will be taken by boat to fishing areas. After the fishing is done, you will enjoy your work on the spot by steaming or grilling.
Sea fishing
8. Windsurfing by canoe
Windsurfing by canoe is a unique beach tourism experience in Nha Trang. When participating, players will be wearing cannon vests, standing or sitting to balance on the skateboard in a straight line and be held tightly at the end of the rope connected to the canoe in front. When the canoe runs, it will drag visitors. To play, you must learn through the balance course and aerobatic techniques, …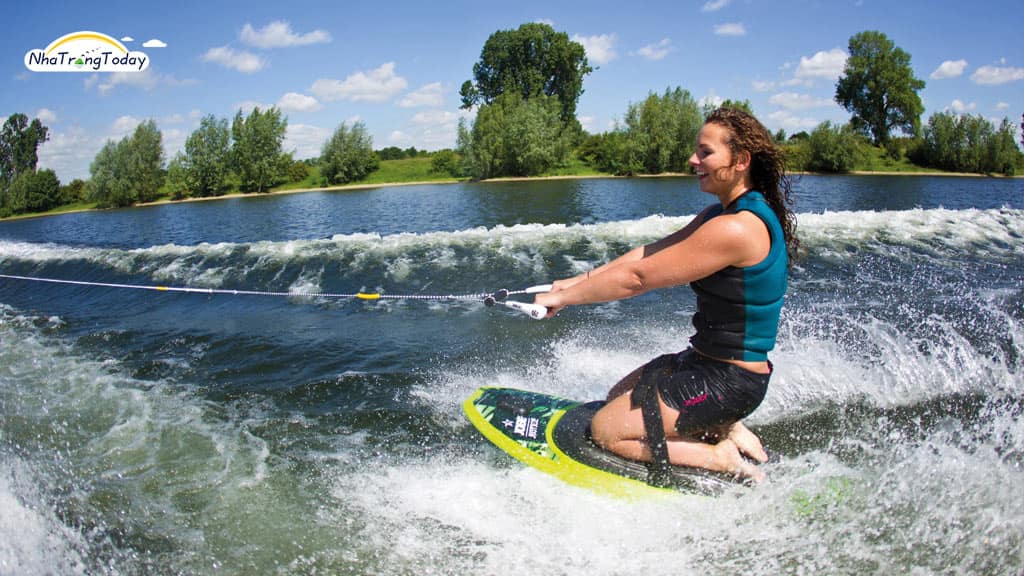 Windsurfing by canoe
9. Kayaking
A sea sport that both challenges perseverance and courage and requires calm and skillful handling of situations is kayaking. Each boat will usually carry a maximum of 2 people. Note that when rowing at sea, it is easy to overturn if you are too hasty or are not familiar with how to row. So swing your oars gently, following the current.
Kayaking
Really, your trip will not be complete without participating in sea travel experiences in Nha Trang. These exciting and new activities not only bring visitors excitement and excitement, but also provide a source of positive energy, relieve all pressures in life.